Ourika Valley Day Trip from Marrakech
Book one of the best Day trip from Marrakech to Ourika Valley
Day Trip from Marrakech to Ourika Valley
Ourika Valley day trip from Marrakech is a pleasant village where the many walk and treks take place. The typical mountain trek which leads to a cascade of 7 waterfalls is an absolute must-do. Ourika is located 60km from Marrakech, in the foothills of the High Atlas.
Due to its many Berber villages, waterfalls and several attractions is one of the most popular day trip destinations from Marrakech.
due to its many waterfalls and wonderful nature, it is a very popular attraction; the Ourika Valley spreads between the first foothills of the Atlas Mountains. Despite its proximity to Marrakech, Ourika is still considered relatively unspoiled.
Ourika Day trip from Marrakech will allow us to experience the beauty of the Ourika Valley and its beautiful landscapes of green meadows, 16th, and 17th-century Berber villages, and escape the hustle and bustle of Marrakech for the day.
Ourika Valley is a favorite weekend getaway for local people that is appreciated for its beautiful landscapes and waterfalls and one of the typical valleys of the High Atlas Mountains very know for its fruit trees, tiny hamlets, riverside restaurants, high green terraces, surrounding Atlas peaks, rocky village foothills and the 7 waterfalls that surround the village.
Day Trip Info:
Ourika Valley
Temperatures are cooler in the shadow of snowcapped High Atlas peaks, and this blooming valley a little more than 50km south of Marrakesh is the city's escape hatch from the soaring summer heat. The valley is especially mood-altering from February to April when almond and cherry orchards bloom manically and wildflowers run riot.
Sadly Ourika's beauty and easy accessibility have led to significant development, which now threatens to mar its mountain-valley vibe. At Oulmes, makeshift cafes and BBQ joints line the riverside strung together by flimsy rope bridges that allow day-trippers to cross the river, while at the end of the valley sits the summer resort and well-worn trekking base of Setti Fatma.
For High Atlas scenery with fewer tourist coaches and moped-mounted salesmen, you may prefer the Mizane or Zat Valleys.
Atlas Mountains
The Atlas Mountains are a mountain range in the Maghreb. It separates the Mediterranean and Atlantic coastlines from the Sahara Desert. It stretches around 2,500 km (1,600 mi) through Morocco, Algeria, and Tunisia. The range's highest peak is Toubkal, which is in southwestern Morocco, with an elevation of 4,167 meters (13,671 ft). The Atlas mountains are primarily inhabited by Berber populations. The terms for 'mountain's Adrar and Adrar in some Berber languages. These terms are believed to be cognates of the toponym Atlas. The mountains are also home to a number of animals and plants which are mostly found within Africa but some of which can be found in Europe. Many of these species are endangered and a few are already extinct.
FAQ
Price per person
Ourika valley day trip from marrakech Highlights:
 

Family-friendly
Get off the hastle and the bastle of Marrakech
Get up-close to native wildlife
Free hotel pickup and drop-off included
Visit a typical Berber market (Monday and Thursday)
See Berber villages and houses clinging to the side of hills
Drive the scenic roads of the Ourika Valley in the Atlas Mountains
Duration: 1 day
Departure time: 8:00 / 8:30 am
Starting point: Your hotel/riad in Marrakech
Ending point: Your hotel/riad in Marrakech
Itinerary of Marrakech to Ourika Valley Day Trip
Your day trip to Ourika Valley from Marrakech starts at 09 am after a short drive from Marrakech to the foothills of the Atlas Mountains for one hour to Stti Fatma to feel the refreshing waters of the Seven Waterfalls, we will take the road along the Ourika Valley, then you enter through a series of clinging mountain villages and driving through many From the Berber villages and the Ourika Valley with several stops along the way to take pictures.
Stop by to see the gorgeous landscapes filled with vibrant colors as we move across the hillsides. Ourika Day Trip from Marrakech will give you the opportunity to take a half-hour camel ride deeper into the valley. Once we reach Siti Fatima, a favorite weekend destination for many Moroccans.
Much appreciated for its beautiful streams, 7 beautiful waterfalls, cliffs, and green valleys, you will explore an area still practicing the traditions of medieval farming. Wander the valley to take pictures of the green terraces surrounding the Atlas Mountains.
After the stroll, we return to lunch at a restaurant with a beautiful view of the mountains. Lunch consists of a variety of Moroccan dishes (vegetarians welcome). then after We go back to Marrakech in the Afternoon.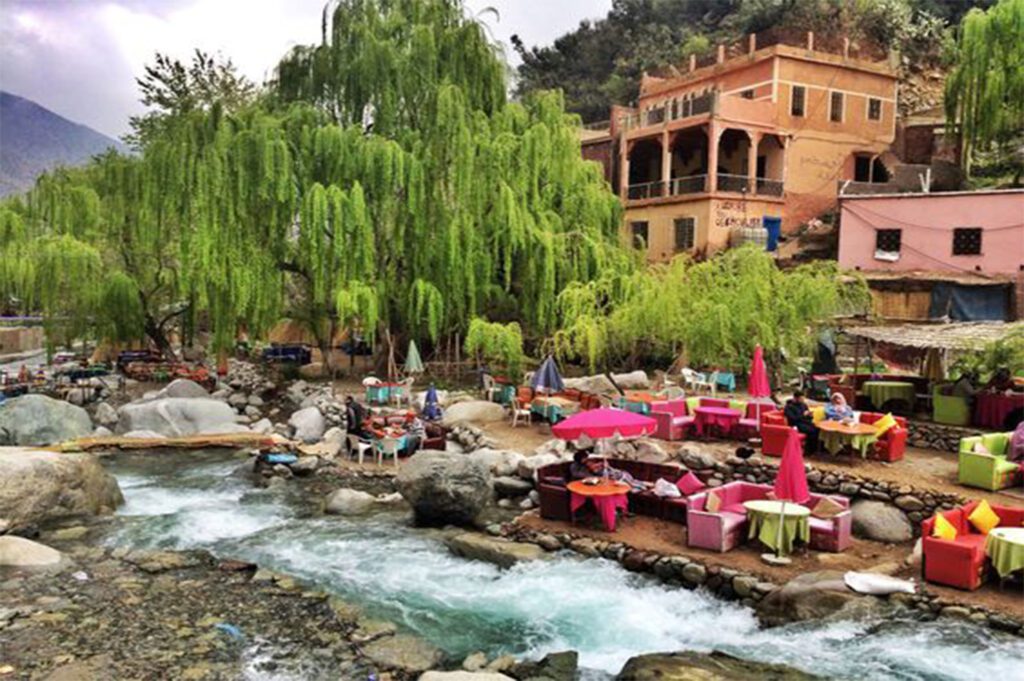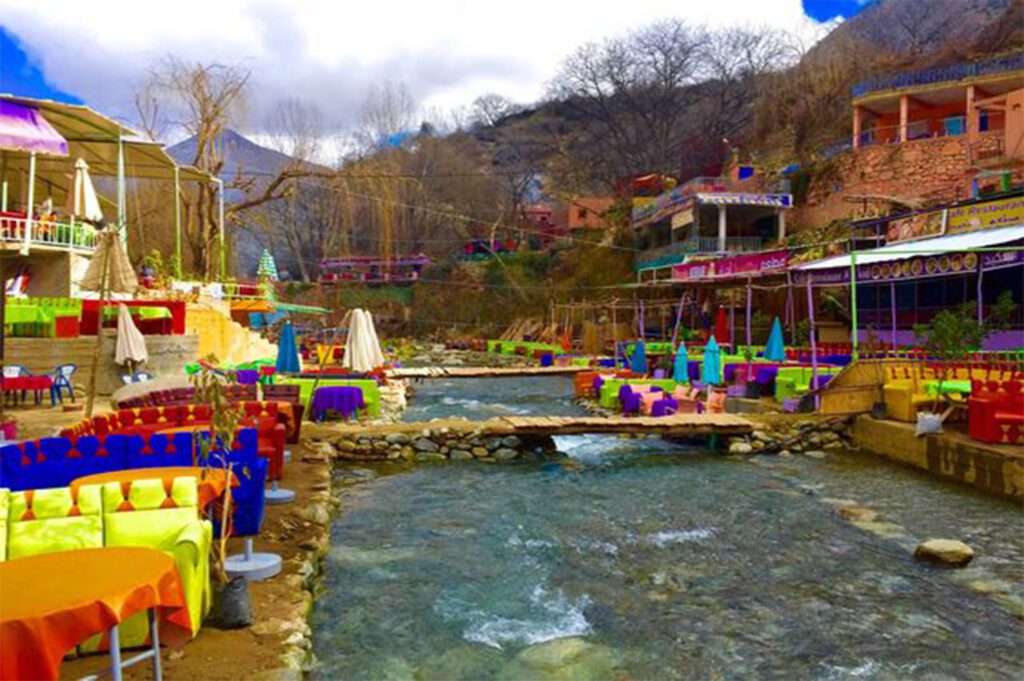 NOTE: If this Ourika Day Trip from Marrakech does not match what you're looking for, don't hesitate to Contact us and we will prepare the trip to your needs and requirements.
Day trip from Marrakech to Ourika Valley Reviews
Best 1-Day Trip from Marrakech to Ourika Valley
Pick up at 10 a.m. at the hotel and return at 7 p.m. I visited a cooperative of argan trees and spices, a Berber house, and a specialist in craftsmen (carpets) during the day. We went to see the waterfalls after the Berber house. It's a bit of a hike, but not too difficult. It's worth it, but if you're concerned about heights, it can be difficult. I came down from the mountain and stopped for lunch. Nice traditional food, then we go back. Have a great day. Martin took care of him as a guide for the day and Mohamed was our local guide for the mountain. I highly recommend this trip.
Ourika Valley and Atlas Mountains Day Trip from Marrakech
The tour with our driver Hassan was just amazing! It was about an hour of travel to reach the Ourika valley where the excursion in the mountain begins to reach the waterfalls with some stops where you can see crafts and enjoy their explanations. It is worth more than the price and you will not regret it.
Atlas & Ourika Valley Day Trip from Marrakech
Amazing day, much cheaper than at the hotel. Great pickup, saw the women's cooperative making argan oil, a Berber house, and a guide took us to the waterfalls which was a steep climb but very nice and well worth it, they took us to the river to eat, after which it was super tasty and very reasonable. Can't complain about the price as everything was included except lunch.
Perfect full-Day Marrakech trip to Ourika Valley
An incredible adventure, essential to discover the Berber lifestyle at the foot of the impressive Atlas Mountains. The driver and guide were very knowledgeable and friendly. I would definitely recommend it to adults as there is quite a mountain hike to get to the different waterfalls. Therefore, wear comfortable clothes and shoes. A full day at a very reasonable and affordable price, great value for money.