Legzira beach day trip from Agadir
Legzira beach day trip from Agadir
private & shared Day Trip To Legzira From Agadir
Legzira beach day trip from Agadir, It is located between Mirleft and Sidi Ifni. Legzira Beach is indeed different from all other beaches. It is unique in its own way as it has those two majestic red stone arches carved by water and wind.
Day Trip Info:
Agadir
Agadir is a Moroccan tourist city. It is located 520 km from the capital, Rabat, 509 km from Casablanca. The population of the city reached 844,421 in the 2014 census, and most of them speak the Amazigh language, which is one of the two official languages of Morocco. The city overlooks the Atlantic coast and is located at the foot of the High Atlas Mountains, north of the mouth of the Souss Valley into the Atlantic Ocean. Agadir is the provincial capital of Agadir-Idautnan, a destination for Souss-Massa. The city was the scene of the Agadir Crisis of 1911 between France and Germany, which preceded the First World War.
With a bustling port and a complex of beaches stretching beneath its kasbah, Agadir was completely rebuilt after a devastating earthquake in 1960. It is today the country's leading destination for sun, sand, water. pubs and pizzas. Laid out like a large network of downtown streets, surrounded by sprawling residential suburbs, Agadir's concrete-clad interior neighborhoods are ugly and barren. However, the city speeds up on the waterfront, where Moroccan street life arrives with a refreshing sense of space. The sandy beach, arched south of the dazzling white marina, offers clean water and 300 days of sunshine a year.
Agadir caters primarily to package tourists and will be less attractive to independent travelers. Families will enjoy relaxing on the beach and strolling around a handful of sites. However, if you don't have children in the trailer, we recommend going elsewhere to make the most of your visit to Morocco.
Legzira beach
Legzira Beach is a wild Moroccan beach, located in the rural town of Teugaza, between the cities of Tiznit and Sidi Ifni, about 150 km south of Agadir and 10 km north of Sidi Ifni. Its views and waves are popular with tourists, hikers, and surfers. The place reminds us of the landscapes of the moon. It is an important tourist site in the Sidi Ifni governorate and the Guelmim-Oued Noun region.
In the 2014 march, La Nouvelle Tribune magazine ranked it among the 12 most beautiful beaches in the country.
One of the famous arches on the beach collapsed on September 23, 2016, possibly due to natural erosion.
The place is still very busy with peak attendance during the summer period.
Explore Legzira beach day trip from Agadir.
FAQ:
price per person:
Agadir day trip to Legzira Beach Highlights:
 Enjoy fantastic views.
 Friendly and family-friendly.
 The ideal choice for families.
 The romantic experience, perfect for couples.
 Ideal location for photography and relaxation.
Duration: 1 day
Departure time: Around 8H30 in the morning​
Starting point: Your hotel/riad in Agadir
Ending point: Your hotel/riad in Agadir
Legzira beach day trip from Agadir Itinerary
Legzira is one of the most amazing beaches in Morocco, it ranked among the 12 most beautiful beaches. It is located 150 km Far from South of Agadir. It is unique in its own way, as it has these two majestic red stone arches sculpted by seawater and wind. The Legzira beach is definitely something you don't see every day.
After leaving Agadir towards Legzira beach, we will make a quick stop in the old walled town of Tiznit (known as Silver City) to explore the city and have a drink or use the restrooms, after the break from Tiznit, we will head towards the beach of Legzira.
Feel free to spend the whole afternoon on the beach at your leisure, whether it's walking along the coast or relaxing in the sun and feeling the waves of the ocean …
At lunchtime, you will receive lunch as per your choice. We offer vegetarian and non-vegetarian dishes. It is suggested to try Moroccan cuisine as it tastes different from other types of cuisine.
After lunch we will return to Tiznit (silver city), visit the walled city and make a quick stop at a piece of handcrafted silver jewelry, then return to Agadir.
the end Legzira beach day trip from Agadir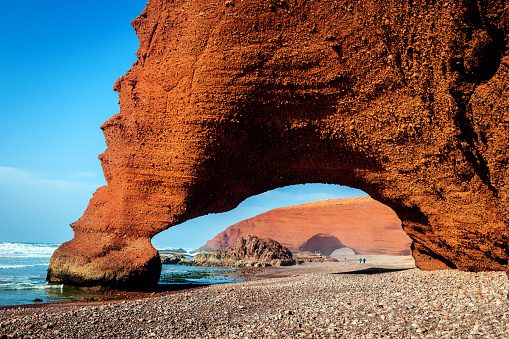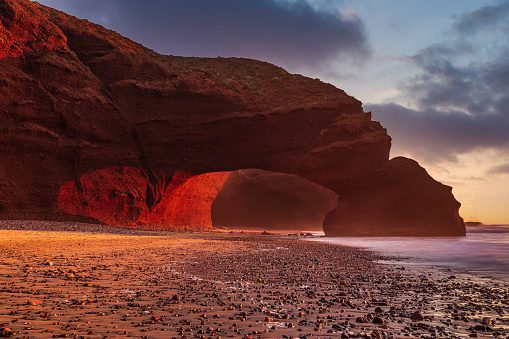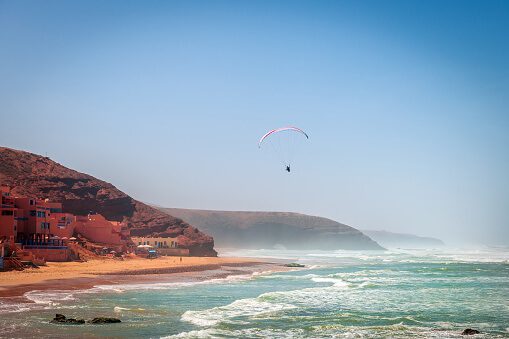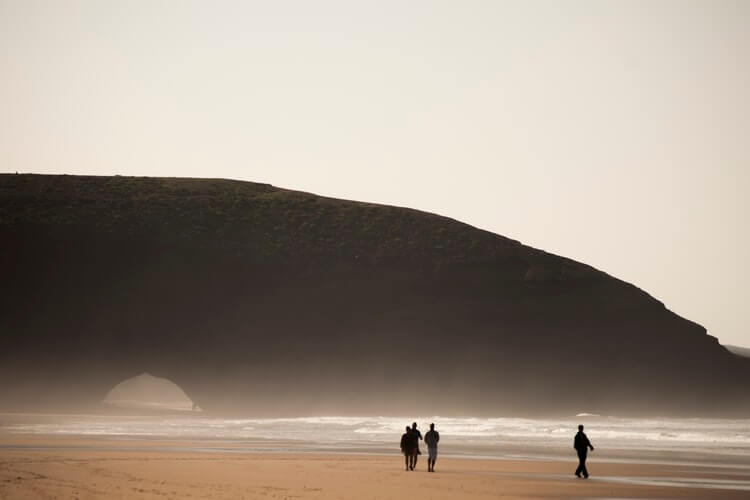 NOTE: If this Legzira beach day trip from Agadir does not match what you're looking for, don't hesitate to Contact us and we will prepare the trip to your needs and requirements.
Agadir day trip to Legzira beach reviews
Lai H
Agadir day trip to Legzira Beach
It's a 2 hour drive from Agadir, but definitely worth the trip. The beach is spectacular with its rugged rock formation.
A pleasant and calm beach to sit and spend a relaxing day, or to climb the huge arch.
The grilled fresh fish lunch was delicious.
Thank you to Ste Marrakech Tour Company and to the guide / driver Hassan for this beautiful day!
Gytis M
Legzira beach day trip from Agadir
The trip was amazing and the owner of the trip showed us what we expected and more. It was a comfortable ride all day. Legzira beach is amazing and the whole experience was amazing. . .
Khl B
Best day trip from Agadir to Legzira
Both guys were great and showed us even more than what was included in the tour eg a fishing village. They were never in a rush and you had enough free time on Legzira beach. They also made special wishes so we saw another beach. Pick up absolutely on time and excellent communication before the trip.
Poggi L
1 Day trip Legzira beach from Agadir
Hello everyone, I am writing this review to tell you that I was at Legzira beach with this company and I enjoyed every second and had a lot of fun.
Get to know Merzouga Activities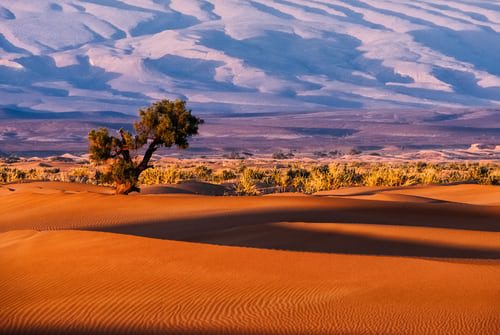 Agadir day trip to sahara Desert
Discover the Pre-Saharan region south of Agadir, the gateway to the desert, driving through tiny Berber villages, via the Dam…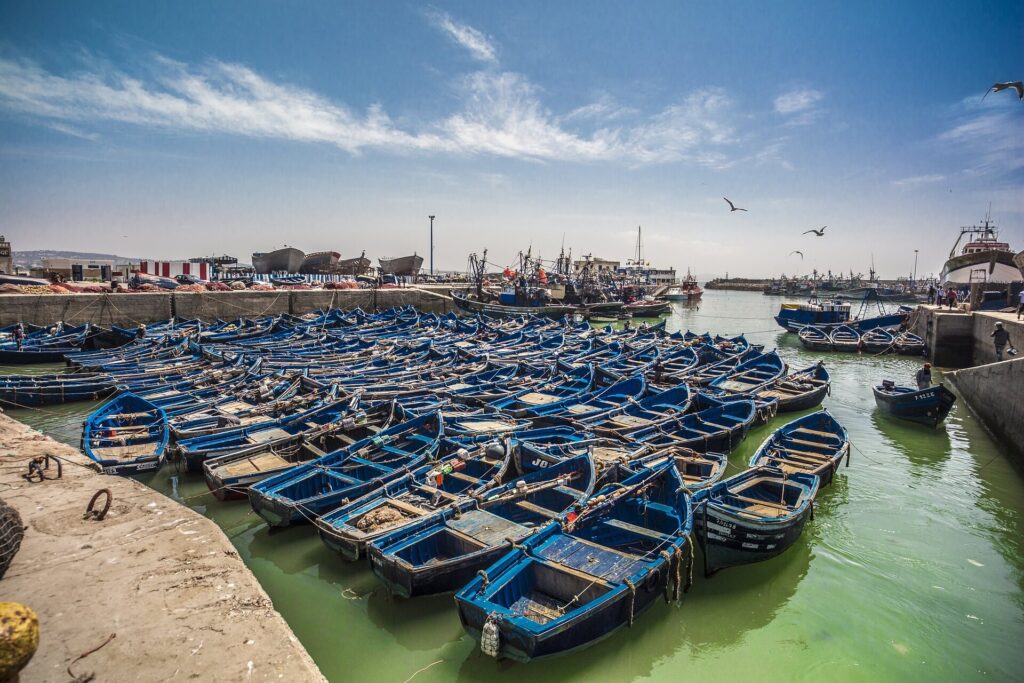 Day trip from Agadir via Atlantic ocean to Essaouira
A Visit to the Medina of Essaouira offers charming colorful landscapes from The Moroccan – Portuguese style…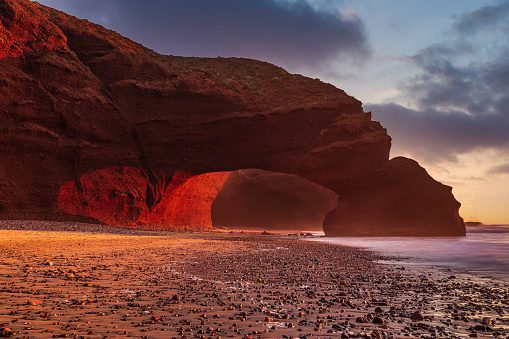 Day trip from Agadir to Legzira beach
Legzira beach is located between Mirleft and Sidi Ifni. Legzira Beach is indeed different from all other beaches. It is unique in its…