Desert tour Fes to Marrakech 8 days
desert tour fes to Marrakech 8 days
Shared & Private 8 days fes to Marrakech via Merzouga
Overview:
Enjoy this long tour that will take 8 days desert tour Fes to Marrakech to discover many beautiful places, our trips will start from Fes towards Sahara desert south Morocco and we will end in the red city in Morocco which is Marrakech, visit Fez, it is a charming city for its visitors, as it is an ancient city surrounded by hills and forests, which made it one of the most beautiful places in the region there, and it enjoys the original Moroccan architecture that was untouched by any modern architectural intervention, in addition to the narrow streets the city is characterized by mosaic art and arched entrances Beautiful ironworks, as well as a rich historical legacy, as it is possible to visit medieval Roman ruins, in addition to the ruins of an empire dating back to the third century. We will discover the Atlas Mountains with its beautiful traditional buildings, Ride Camels in the Sahara desert of Erg Chebbi to see the beautiful sunset and you will spend a great night with a sky full of stars in Desert camp( Berber tents), we will see The fantastic two valleys, Roses valley, and Dades valley then the Todra Gorge, then visit the Old Kasbah of Ait ben Haddou that has an old history, it's Unesco world heritage. We will drive through the curvy road via the Atlas Mountains to reach up to Marrakech.
8 DAYS INFO
8 days Desert tour Fes to Marrakech
+ Duration: 8 Days & 7 nights
+ Departure: 08:00 am
+ Starting location: Fes
+ Ending Location: Marrakech
Desert tour Fes to Marrakech 8 days Highlights
+ Pick you up from the Airport
+ the visiting of Fes
+ Cross the High Atlas Mountains and its Tizi Ntichka pass
+ Visit the UNESCO world heritage site of Ait Ben Hadou 
+ Drive to Dades Gorges
+ Visit  The Todgha Gorges and drive across Erfoud To Desert
+ Ride a camel in Merzouga while assisting to a dramatic sunset
+ Sleep under the stars in Erg Chebbi Sahara camp
+ drive through the Ziz valley and Atlas mountains to Marrakech
+ visit Essaouira Beach
FAQ
REVIEWS
Itinerary 8 days from Fes to Marrakech desert tour
Day 1: Fes - Pick up at the airport transfer to the hotel
Pick up at Fes Sais Airport, follow arrival time. And transfer to the hotel/Riad in the heart of the Medina of Fez. Depending on the time of arrival, the possibility of having a first contact with the visit of the Medina of Fez. Dinner and accommodation in hotel/Riad.
Day 2: FEZ - World heritage site - (Day to know Fez)
An entire day devoted to discovering the most intellectual city in the kingdom. There are many monuments that you can visit: Medersas (Koranic Schools): Chahrij, Bouinania Attarin. Souks, Fes El-Jedid, the Karaouine Mosque (the first university in the world).
Day 3: Fes– Medilt - Azrou - The Ziz Valley– Merzouga Desert
After breakfast we leave Fez towards the middle Atlas, passing through Ifrane, we arrive at the Azrou forests where there are wild monkeys. It will be a good opportunity to take photos of Moroccan nature. We will have lunch in the Berber village of Zaida. We will continue crossing the Atlas Mountains enjoying the Medilt landscape until we reach the small town of Rich, Erfoud, where we begin to feel the air of the Sahara with the Tafilalet oasis. We will continue to Merzouga, after relaxing a little … we will go on the camels to spend a night in the desert. We will spend a night in the tent of the Berber nomads.
Day 4: Merzouga - KHamlia - Erg Chebbi Dunes Tour (NIGHT IN the tents)
You are already in the desert! … Enjoying the magic of the dunes. In the morning, early, when the heat still does not press. We will take the 4 × 4 and we will go to know these desert lands, the lake or Dayet Srij, full of flamingos, to the house of a family of Gnaouas or Bambara musicians, descendants of slaves who came from Black Africa, and who will delight us with its traditional music. We will enter the dunes, where the old «Paris-Dakar« passes, we will meet some nomadic families who live as they can in that sea of ​​sand and stone … An authentic unforgettable adventure !! We return to the hotel and we will leave the 4 × 4 Vehicle there. and in the afternoon we will ride the dromedaries that will take us to the heart of the desert where we will contemplate an unforgettable sunset. Dinner and accommodation in a nomadic tent, in the heart of the "Erg Chebbi" dunes in Merzouga.
Day 5: Merzouga - Rissani - Fossil Erfoud - Gorges of Todra-Dades Valley
We will get up early to enjoy a spectacular sunrise, after breakfast, we will return to Merzouga by camel before leaving for Rissani. We will visit the largest market in the entire area, we will continue to Erfoud where you can visit the marble and fossil factory. We go through the palm grove of Touroug and Tinijda to reach the Gorges of Todra, a river bed that forms vertical-wall gorges, considered an attraction for climbers. We will have lunch there and walk to enjoy the gorges, in the afternoon we will continue towards the Valley Dades, dinner and night in the hotel.
Day 6: Dades Valley - Valley of Roses - SKoura - Ouarzazate - Ait Ben Haddou - High Atlas - Marrakech
We will enjoy the best views of the Dades Valley, a large number of Kasbah of tourist interest. Later we crossed the Valley of the Roses and the great palm grove of Skora before arriving in Quarzazate to visit the Kasbah de Taourit, former residence of the Pacha Glaoui. Then we follow the route to Ait Ben Haddou, where we will visit the famous Kasbah, declared a World Heritage Site by UNESCO in 1986. Several films have been shot such as Gladiator, The Mummy, Obelix, The Jewel of the Nile, Free time to eat, in the afternoon we will follow the road to Marrakech, crossing the Tizi Ntichka mountain range, with stops to photograph. Arrival in Marrakech around 6:00 p.m., transfer to the hotel, and end of the trip.
Day 7: Marakech - Essaouira - back to Marakech
We will visit some monuments of La Menara and before starting the trip to the west coast to visit the old Portuguese port called Mogador, a small coastal fishing town, it preserves its walls that served as a defense against attacks by invaders from the sea. their defense systems. The climate of the city makes it always windy, it is an attraction for surfers. We will take a walk through its streets full of craft products and spices. The city is known for its Gnawa spiritual music festival where you can taste its seafood prepared at its small stops. spend the night in the hotel.
8 day : Marrakech - Airport
After breakfast, transfer at the agreed time to the Marrakech Menara Airport, and end of the Desert tour Fes to Marrakech 8 days.
What's included: in 8 days Desert tour Fes to Marrakech
What's not included: in 8 days Desert tour Fes to Marrakech
NOTE: If this 8 days Fes desert tour to Marrakech via Merzouga does not match what you're looking for, Contact us and we will prepare the trip to your needs and requirements.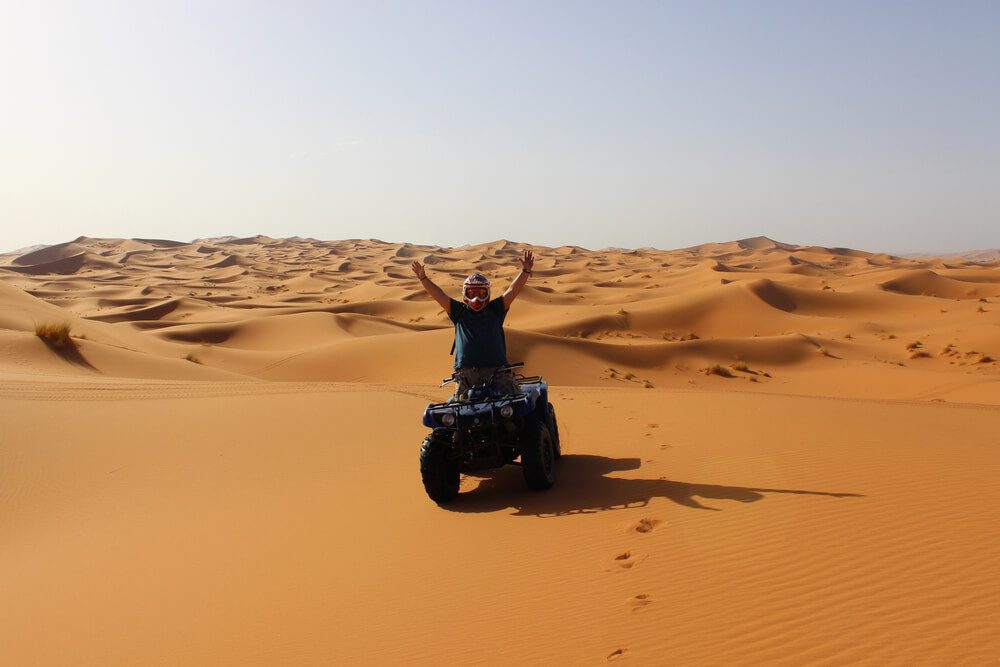 EstefaníaSC
Our desert family
Our experience with Said as a host has been wonderful. Starting with the facilities, camp with all the luxuries you need to feel like you are at home. Helpful and pleasant staff. We made a fairly complete excursion, we visited mineral mines, a nomadic family that invited us to tea, and the Khamlia village with their Gnawa music, all adorned with music and laughter that has made us live great moments. Without a doubt an experience to repeat! Thank you so much! we are happy to write these Testimonials on Morocco desert tours to keep Our love for the Marrakech tour Company. we will come back soon.
Silvia S
Incredible experience!!
I went with my husband and daughters to Casablanca and Merzouga from Marrakech, on a private tour organized by Hassan's company and it was fantastic. Our times and preferences were contemplated, the guide Said was extremely friendly, polite, and informed. In the desert we had a great time, Mohamed and Ibrahim took care of everything in the Tents, which were very comfortable. Excellent and abundant food. Recommended as a unique experience. Silvia S.
Gertjan
Morocco
An unforgettable experience. Hassan, our driver, is a wonderful person. He was attentive to us the 6 days that our tour lasted (Marrakech – Merzouga – Casablanca). He cared that we were comfortable, at ease in his land. From his own nomadic experience, he will tell you stories of his life and that of his friends, you will learn how Morocco works, you will eat like a Berber and you will feel at home. You can stop wherever you want, you just have to ask! It will advise you where to buy things to avoid scams or scams. You will learn their language, and by the light of the stars, you will play and dance Amazigh music in the middle of the desert. We forgot a backpack and jacket in the desert and another driver brought it to us at the airport, without asking us for anything. We are leaving the desert with many memories and friends, that without a doubt, we hope to see again. Said, Hassan, Mohamed, Ali... marrakech to Merzouga desert 6 days
Jhone
Welcome, Mama Africaaa
We went to Merzouga on our own in a rental car. An hour before arriving we saw the advertisement for Hassan's camp on Airbnb and we didn't hesitate to book with him. He contacted us instantly, he sent us the coordinates of the hotel in Merzouga and he and the boys waited for us to take us where the camels were waiting. From the first moment, they treated us like lifelong friends and made us feel part of the desert. Although we booked in the standard camp, they installed us in the superior one because there was space there, without asking for anything in return. And what a camp, it's better than a 5-star hotel, with private bathrooms, hot shower, new duvets, and blankets … And the food even better, the best dinner and breakfast of our trip to Morocco. I will recommend Said and the boys to all the friends who want to visit the desert because they are wonderful people who make it an unforgettable experience. We will always carry them in our hearts, and we will surely return. Mama Africaaa !! Our Testimonials Morocco desert tours to Marrakech tour Company, we thank you so much for Everything.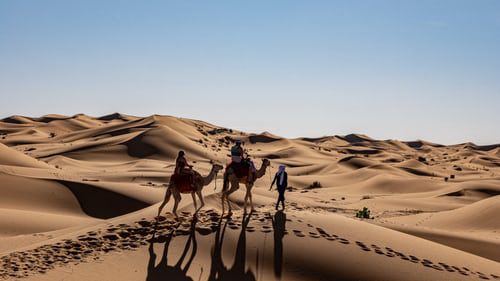 Cris
Discovering Morocco
I think I cannot describe my experience in words ... it has been a magical trip, special, I have discovered a country with some incredible people, I only have words of infinite thanks, Hassan, Said, and your friends, you have treated us like yours family, you have made us live a most authentic and beautiful experience, you are beautiful people that I am infinitely grateful to have met you on this path, I will undoubtedly come back to visit you, to sit next to you, to make you feel that way and to continue discovering that beautiful country! A little piece of yours is already in my heart forever! "Testimonials Morocco desert tours"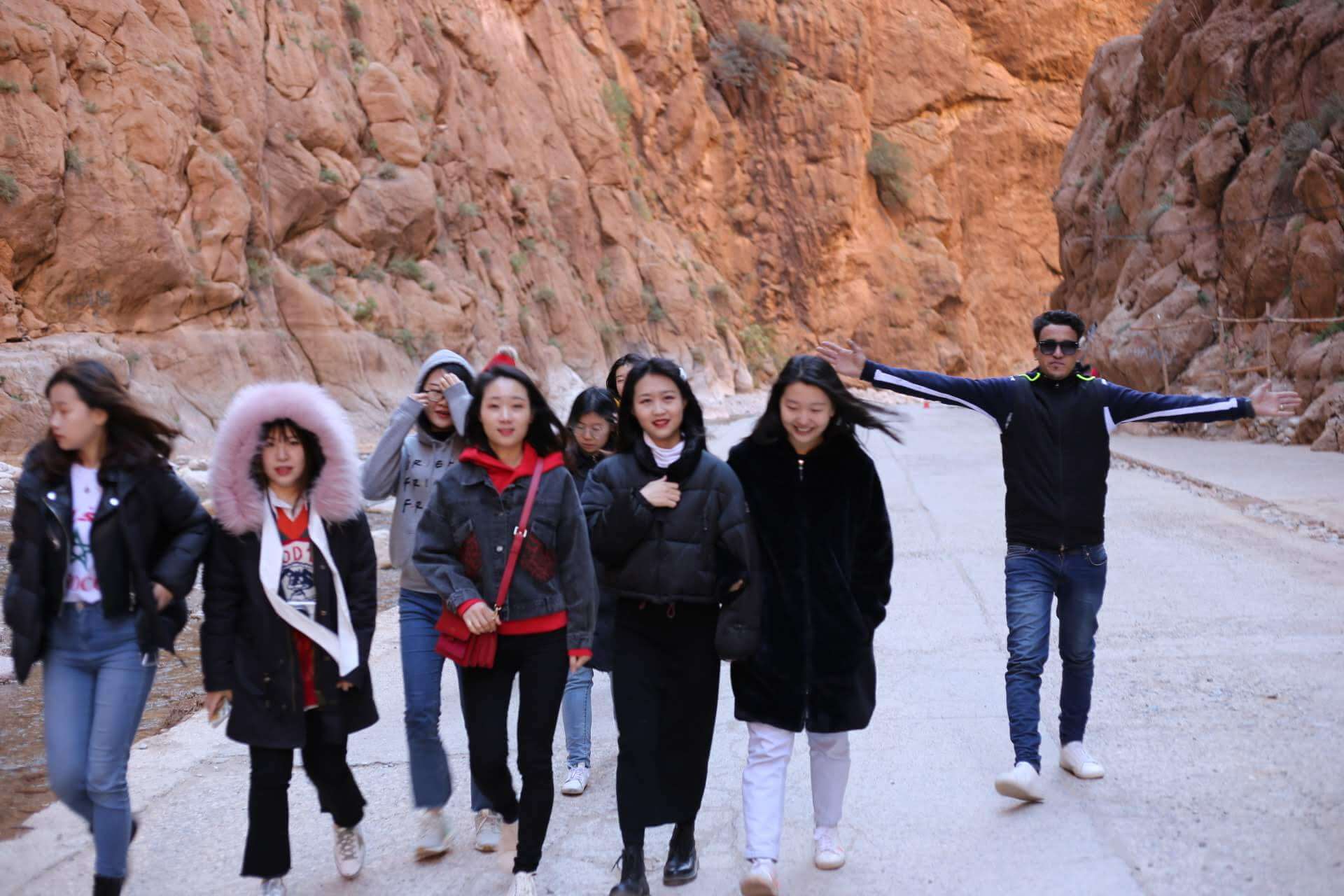 Teresa G
AN EXPERIENCE TO REPEAT
It has been an excellent trip, from minute one, our guide could not be better, as a person, attentive, polite and above all very good driver. The desert experience is magnificent, the night in the unbeatable camp, the expectacular hotel in the desert. Totally recommendable. We will repeat with you of course and we will recommend you to 100 and 100. A pleasure to have made the trip with you. A hug to the whole team.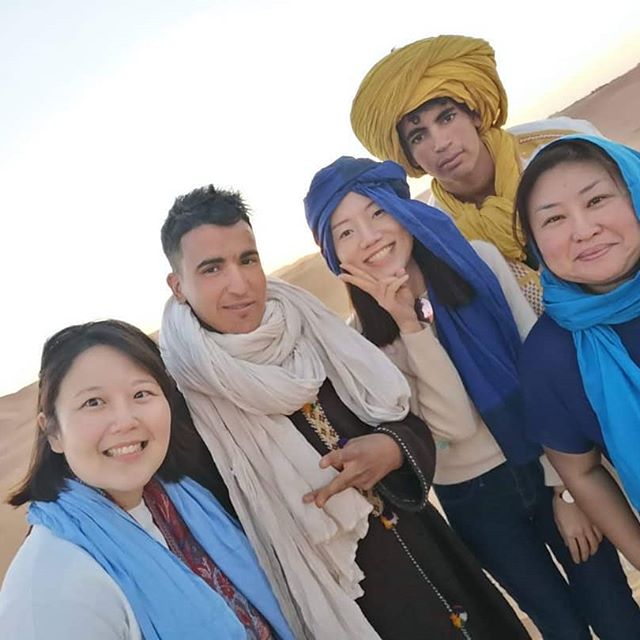 Carina M
My vacation days
2 years ago they passed me the contact of this boy, I always looked at his page and I never decided on Marrakech. One day I wrote to him and asked him about his tours and Hassan did not hesitate at any time to marvel at his country. As soon as I explained, I told him to prepare a 7-day tour and that was all we talked about until Q arrived. It has been a vacation where curiosity was above me and this wonderful family filled my soul with things and feelings Q was fading, seeing the reality of life and life is very simple, and being happy depends on how you decide to live it. In summary, I found how I say my Sahara family. And in no time I will return to visit the north. See you soon...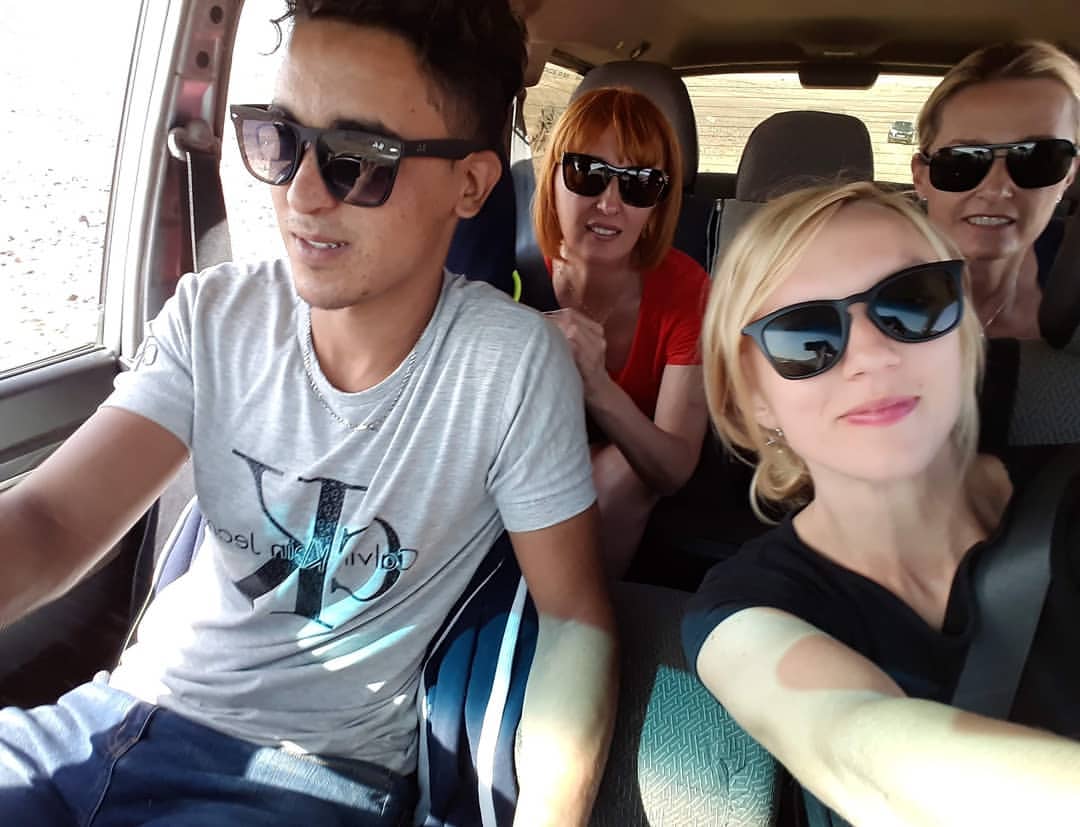 Lauropin
Morocco desert tours with HASSAN AND SAID
My boy and I were a little over a week ago making a route through southern Morocco. We have Hassan, who helped us a lot to organize it and be able to visit the best in the days we had and the area we wanted to see, without a doubt, a discovery. We had never been to this incredible country, and it left us totally impressed, even with certain cultural differences, we are very similar. Said accompanied us everywhere, telling us stories of the places and giving us time to enjoy each place, he behaved like a true traveling companion. Then we met Hassan in the desert, who hosted our stay there, concerned that we were comfortable at all times. He gave us a walk that was the icing on the cake in our desert experience, so much so that we can't wait to go back and dedicate every day to the dunes !! Thank you very much for everything, traveling with people like you makes the experience even better !! We will return without a doubt !!