One Week in Morocco - 7 Days itinerary
7 Days in Morocco - one Week
Overview of 7 Days in Morocco Tour - One Week from Marrakech
In this 7 Days in Morocco Itinerary ( one week in Morocco ) you will discover one of the best destinations in Morocco, including Ouarzazate and Ait Ben Haddou Kasbah, Todra Gorges, Zagora Sahara Desert, Taroudant, Agadir and Essaouira, this One week in Morocco will let you enjoying your Morocco Desert Tours as you need to be, your dream with Marrakech Tour Company will come true.
One week in Morocco 7 Days Tour Info
+ Duration: 7 Days & 6 nights
+ Departure: 08:00 am
+ Starting Location: Marrakech
+ Ending Location: Marrakech
7 Days Itinerary from Marrakech One week in Morocco Highlights
+ Cross the High Atlas Mountains and its Tizi Ntichka pass.
+ Visit the UNESCO world heritage site of Ait Ben Hadou.
+ Drive to Dades Gorges & Todra Gorges.
+ Visit  The Todgha Gorges and drive across Draa Valley to the Mhamid Desert.
+ Ride a camel in the Zagora Desert while assisting to a dramatic sunset.
+ Sleep under the stars in a desert camp.
+ drive through the Taznakht to Taroudant city.
+ Visit Essaouira city.
Itinerary One Week in Morocco - 7 Days Desert Tour from Marrakech
Day 1: Marrakech - High Atlas Mountains - Tizi N'tichka - Ait BenHaddou - Ouarzazate
Marrakech Tour Company will pick you up from your Riad or hotel at 8 a.m. and start 7 days in Morocco Itinerary by taking the road to the Tizi n'Tichka pass driving through picturesque countryside and typical Berber villages and breathtaking views offered by the High Atlas Mountains.
We then take the old caravan route leading to Ouarzazate visiting several kasbahs on the way, the first being the Kasbah Telouet, which was built by the powerful tribal leader and Pasha of Morocco el Glaoui, known as the 'vulture sultan'.
After lunch, we follow a path that will take us through the ksour (fortified villages), until we reach the valley of Ounila with its magnificent river, green valleys, and living hills. with brilliant colors.
Another trail takes us to the kasbah Tamdaght, also a fortress-like palace, which once belonged to the powerful Glaoui clan. It is now little more than a ruin, but it is still an impressive sight and set in the most beautiful surroundings against a backdrop of mountains.
Ait Ben Haddou Kasbah is Our last stop before Ouarzazate. Now a World Heritage site, this is one of the finest and best-preserved examples of both earth architecture and of a fortified village in Morocco and has served as an appropriate location for many epic films such as Lawrence of Arabia and Alexander.
Then we leave for nearby Ouarzazate, where we will dine and spend the night at a hotel.
Day 2: Ouarzazate – Roses Valley - Dades Valley - Todra Gorges ( Tinghir ).
After breakfast, we head for the Dades Gorge via the lake, park, and kasbah of Ouarzazate. We then continue westward into the Dades valley to the village of Bou Thahrar and the kasbah of Ait‐Youl, another splendid Glaoui stronghold, in the Dadès valley, and then on to the Dadès Gorge.
From there, we continue along a winding road through the dramatic scenery of the foothills of the High Atlas to the Todra Gorge. We have dinner and spend the night at the nearby oasis of Tinghir.
Day 3: Tinghir – Tazarine – NKob – Zagora – Mhamid Desert
In Our third day of One Week in Morocco we need to make an early start, as this will be the longest stretch of our journey, which takes us through Tazarine, then N'Kob, a small Berber village, and Zagora, where we stop for lunch. After lunch we take the M'hamid road, stopping at the holy city of Tamgroute, an important religious and learning center of the Nasiriyya Sufi where we will visit the Koranic library, explore an underground Kasbah, and be tempted by the products made in the Tamgroute pottery, renowned for its special green glazes.
Finally, we take the trail through the palm groves of Ouled Brahim, and Reg Elfaija to M'hamid, on the threshold of the Sahara, and on to our camp, where we will spend the evening, dining and sleeping in Berber tents.
Day 4: Mhamid – Chigaga Desert
After breakfast, we will go for an hour's camel ride and then take a 4×4 truck to the mountainous Chegaga dunes, stopping on the way for lunch in the shade of palm and tamarisk trees; and then we resume the trail to Chegaga to settle into our bivouac, by which time we will be ready to relax and spend the evening watching the ever-shifting sands and enjoying a spectacular sunset, and then dinner.
We sleep in our Berber tents or under the stars.
Day 5: Chigaga - Foum Zguid - Taznakht - Taroudant.
In the morning, we bid farewell to the dunes of Chegaga and leave for Zagora. We stop at We Taznakht, a village known for its fine Berber carpets before we cross the Anti Atlas Mountains to Talioulin, a small town but one of the world's largest producers of saffron.
Not far from Talioulin are the argan forests. Amongst other attributes, the oil from these trees is said to be health-giving and prevent wrinkles, and is much sought after. But its production is labor-intensive and it is extremely expensive.
The Moroccan argan has now been designated a UNESCO biosphere reserve. We then cross the citrus-rich plain of Souss and arrive in Taroudant – an attractive walled city, renowned for its tannery and markets – where we will have dinner and spend the night in a hotel for the fifth night of Our One week in Morocco ( 7 days Itineray in Morocco).
Day 6: Taroudant – Agadir – Essaouira.
After breakfast, we head for Agadir, a large seaside resort with magnificent beaches. The city was entirely rebuilt after a devastating earthquake in 1960. We then go further along the Atlantic coast to Essaouira, once an important trading port – another of Marocco's gems and a UNESCO World Heritage site, where we will have dinner, and stay in a hotel.
Day 7: Essaouira – Marrakech.
In the morning you will be free to roam the beautiful city of Essaouira and its enchanting fishing harbor. Essaouira is one of Morocco's most ancient and most charming fortified port towns, which for centuries, has not only been one of the most important trading ports linking Morocco to the world, but also a magnet to artists, poets, and musicians from all over the world.
The eclectic architecture of the city reflects the influence of its multicultural history from Phoenician and Roman to Portuguese and French.
Its whitewashed walls and blue shutters are reminiscent of Portuguese towns; its beautiful doorways are entirely Moroccan; while the medina and fortress, are a good example of 18th-century French military architecture. It's worth paying a visit to the Sidi Mohammed ben Abdallah Museum, which displays ancient artifacts, as well as some fine marquetry examples crafted from local Thuya wood, and jewelry and carpets.
The town is also home to the annual, international Gnoura music festival, which is usually held around June. In the afternoon, we return to Marrakech and the end of your 7 days in Morocco ( One week in Morocco from Marrakech ).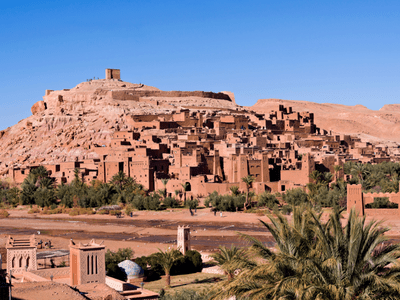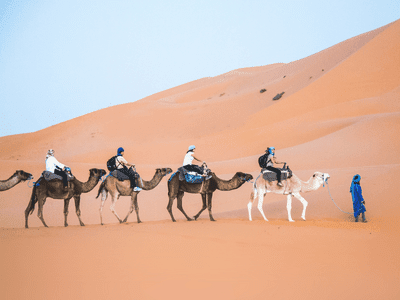 What's included in One Week in Morocco 7 Days Tour
What's not included in One Week in Morocco 7 days Itinerary
NOTE:
If those 7 Days Morocco itinerary from Marrakech do not match what you are looking for. Feel free to contact us and we will prepare the trip according to your needs and requirements.
7 days from Marrakech in One Week in Morocco
Cris wrote a review ( January 2019 )
Great 7 days in Morocco from Marrakech
We were greeted by our friendly driver, Hassan at Marrakech airport, and once we settled into a comfortable car, we went on our adventure trip to Morocco. We were a small group of four friends and we connected with Hassan as if he were part of our group. It was easy, friendly, and sweet, he has a beautiful smile. He was the perfect driver/guide for us. I'm glad we spent a lot of time with him. He has always been a professional and we liked to learn about the culture and history of his country. Driving around the city seems stressful. Hassan handled it easily. I don't always feel safe when other people drive. Hassan was a good driver, neither impatient nor aggressive. It was a very comfortable trip and you can say that Hassan was comfortable in the vehicle and made our trip fun and knew a lot about the history of every place where we were.
Thanks to the Marrakech Tour Company team for this great experience and thanks to Hassan for his excellent work making our Great One Week in Morocco so memorable.
Carla G wrote a review ( January 2019 )
Fantastic One Week in Morocco from Marrakech
I would like to have more stars to give you! we had a fantastic experience. At first, we didn't know what to expect from the accommodation, as we were not familiar with the Riads and Dars, but they were all beautiful and clean and the staff was wonderful. Said, our guide, was fantastic, which meant a lot, as you can imagine for all those days being in the car with him for so many hours. The two hiking guides for the 7 days from Marrakech that we made excursions on foot were so well informed and friendly. We have already recommended this company to everyone. From someone who has experienced job booking trips, I can tell you that it was first class!
Alexandra D wrote a review ( March 2019 )
7 Days Itinerary in Morocco
Morocco is a beautiful country with a fascinating heritage – we did 7 days tour in Morocco from Marrakech through the Sahara desert Our tour guide, Hassan was very useful to give life to these facts and his love and passion for his country and his people made us see the country through their eyes, which makes it a very special experience and adventure.
Places to see in your One week in Morocco 7 Days Tour Itinerary
Marrakech which is a French spelling is one of the most important cities in the kingdom of Morocco. It is the fourth largest city in the country just after Casablanca. The city is located to the north of the foothills of the snowcapped Atlas Mountains. Marrakech is one of the most important imperial cities of Morocco and has been inhabited by the Berber families since olden times. The original city was founded in 1062 by Abu Bakr ibn Umar.
Like all other cities in Morocco, Marrakech comprises an old city that is packed with many vendors and their stalls. This is one of the busiest cities in Africa and serves as an economic center as well as a famous destination for tourists. The real estate and hotel industry is thriving over the years. Marrakech is very popular among the French as they own properties in this city. Prepare for a great time of your lives in the lively city of Marrakech where you can indulge yourself in the cultural heritage of Morocco. The best time to visit this place is around March to May in springtime as the temperature is comparatively low along with affordable prices.
Agadir is one of the most important cities of Morocco, which is located at the shore of the Atlantic Ocean, near the foot of the Atlas Mountains. It's at a distance of 507 km to the south of Casablanca the largeset city in Morocco. Agadir is a busy port with a sprawling golden beach resort visited by thousands of travelers. An earthquake, however, unfortunately, ravished Agadir in 1960 and it has to be rebuilt.
Agadir is one of the most luxurious destinations in Morocco and what lures travelers to this beautiful city is the sun, blue crystal waters of the golden beaches, the jostling pubs full of people, and the smell of crunch and sumptuous pizza. Agadir is known to cater to families who would like to spend a relaxing time on the beaches, swimming and frolicking on the golden sands. There are some sightseeing places as well. The best time to visit this beautiful beach resort is around the months of January when the temperatures are mild and the waters are warm.
The name Agadir comes from the meaning wall or a fortified business. This comes from the Berber language. The city of Agadir's full name in Tashelhit is Agadir n Yighir which means the fortress of the cape.
Essaouira was once known as Mogador and is situated between Agadir in the south and Safi in the north. The city is well protected by walls from the pirates, but you won't be away from the beauty of the sea and the beach. La Skala du Port and Porte de la Marine are the highlighting monuments of the city.
Zagora is located at the foot of the Atlas, in the valley of the river Draa, a huge palm grove of 200 km long surrounded by fruit trees lost in the sands of the Sahara.
Old fortress Almoravid to control the Saharan trade was founded in the Middle Ages by the Saadians as a gate for the conquest of Morocco and the Sahara and as a starting point for caravans. It is in fact the cradle of this dynasty. The city was founded alongside the kasbah by the French in the protectorate for the control of the region.
It is a small town located in the upper Draa valley next to the Sahara desert.
It is accessed from distant Zagora 100 km. by a winding road that follows the Draa Valley. In this area, the river is encased between mountains forming several gorges, where next to the palm trees we can see the desert acacias, which thanks to their resistance to adverse weather conditions and dietary and medicinal properties, are an economic resource for the inhabitants of the oases.
Mhamid is an ancient place of passage for caravans to black Africa that until 1990 was a forbidden place, because of its proximity to the border of Western Sahara and Algeria. Today it is a center of desert tourism for its proximity to the Saharan dunes.
It was the stage of the old Paris-Dakar rally.
In your souk you can find local products, almonds, cuscus, henna, saffron, dates etc.
Tinghir is a large oasis of 85,000 inhabitants, stretching some 30 km long and several kilometers wide. It is included in the oases of southern Morocco, a world heritage site, with an abundance of geological and mineral deposits and with great human wealth, its palm groves, Khetaras fountains, and moussem. The inhabitants are descendants of several Berber tribes who settled in an area rich in water.
Old French military post, provincial capital at 1342 meters altitude, the regional center.
One Week in Morocco 7 Days Tour FAQ
The Al Massira airport, which is 28 km southeast of Agadir, is visited by various European flights. You can also avail the major bus services that you can book ahead of time.
Enjoy a comfortable ride from the airport to Essaouira. You can also avail various car hire services around the corner of the city. Bus 37 runs from outside the airport to Inezgane from where you can travel to Agadir and the entire close by destinations throughout southern Morocco. There are also orange taxis that could take you all around Agadir. The prices would be displayed on the meter. Travel to Agadir with some of the best transport services at affordable prices.
What to see in 7 days in Morocco?
Places to see on a 7-day tour of Morocco
Here you have the route through Morocco of 7 days that we did, organized day by day with the places to see from Marrakech, in addition to sleeping in the desert and crossing the Atlas following part of the route of the Dakar rally in a 4 4, and making the stops that have hallucinated us the most on previous trips.
– Day 1: Marrakech – High Atlas Mountains – Tizi N'tichka – Ait BenHaddou – Ouarzazate.
– Day 2: Ouarzazate – Roses Valley – Dades Valley – Todra Gorges ( Tinghir ).
– Day 3: Tinghir – Tazarine – Nkob – Zagora – M'hamid Desert.
– Day 4: Mhamid – Chigaga Desert.
– Day 5: Chigaga – Foum Zguid – Taznakht – Taroudant.
– Day 6: Taroudant – Agadir – Essaouira.
– Day 7: Essaouira – Marrakech.
How many days is it advisable to go to Morocco?
5 days are enough to make the route of the thousand kasbahs without haste but without pause, and visit the most important imperial cities, Marrakech and Fes. Discover all the places that the route offers you in the previous point about Morocco in 5 days.
is One week Enough in Morocco?
Many people ask: Is one week enough in Morocco? the answer is "yes" One week is enough to explore some amazing ancient cities and the Sahara desert, to fully discover Morocco, you will need more than a month. However, if you only want to visit the highlights, you may need between 7 and 10 days.
More time is always preferable. However, even if you only spend a few days in Morocco, you will have a wonderful experience.
Related tours: One week in Morocco
Desert Tours from Marrakech offers you the opportunity to enjoy a unique stay in Morocco, with easy access to the main attractions and the Sahara Desert. for more Desert Tours from Marrakech Check the Itineraries below or read more.