13 days desert tours from Tangier
13 days desert tours from Tangier
13 Days Tour from Tangier / 13 days in Morocco
Overview:
on this 13 days desert Tours from Tangier, you will Discover a millenary culture with a great artistic heritage. Get to know the most important beautiful cities in Morocco: explore the blue city of Chefchaouen, its cultures-traditional and its crazy street markets, discover the fascinating old Medina of Fez with a local guide.
Visit Fez, it is a charming city for its visitors as it is an ancient city surrounded by hills and forests, which made it one of the most beautiful places in the region there, and it enjoys the original Moroccan architecture that was untouched by any modern architectural intervention, in addition to the narrow streets the city is characterized by mosaic art and arched entrances Beautiful ironworks, as well as a rich historical legacy, as it is possible to visit medieval Roman ruins, in addition to the ruins of an empire dating back to the third century. We will discover the Atlas Mountains with its Beautiful traditional buildings, Ride Camels in the Sahara desert of Erg Chebbi to see the beautiful sunset and you will spend a great night with a sky full of stars in Desert camp( Berber tents), we will see The fantastic two valleys, Roses valley, and Dades valley then the Todra Gorge, then visit the Old Kasbah of Ait ben Haddou that has an old history, it's Unesco world heritage. We will drive through the curvy road via the Atlas Mountains to reach up to Marrakech.
13 DAYS INFO
1 days Desert tours from Tangier
+ Duration: 13 Days & 12 nights
+ Departure: 08:00 am
+ Starting location: Tangier
+ Ending Location: tangier
13 days Desert tours from Tangier Highlights
+ drive through Rife Mountains to Chefchaouen and spend your night
+ Explore Ruin Romanas Volubilis and Meknes to Fes
+ Visit Fez and get to know the beautiful places
+ Ride a camel in Merzouga while assisting to 
+ Sleep under the stars in Erg Chebbi desert camp
+ discover Merzouga Desert and get to know nomads people and their cultures
+ get to know the souks of Rissani and Visit  The Todgha Gorges
+ Drive to Dades Valley
+ Visit the UNESCO world heritage site of Ait Ben Hadou 
+ Cross the High Atlas Mountains and its Tizi Ntichka to Marrakech
+ Visit Marrakech
+ Visit Essaouira
+ drive Through Casablanca and Visit Hassan 2 Mosque
+ get to know Rabat and the Hassan's tower
+ drive back to Tangier via the fantastic views of the villages
FAQ
What's the best time to travel to Morocco?
actually, Morocco is perfect for travel all year. the best time to visit the Sahara desert is The spring season that runs from March to May it is the best time to visit the desert of Morocco so that this period is characterized by moderate and beautiful weather, and Morocco knows calm rains and warm weather and is comfortable for tourism and enjoy its beauty, in this period you can visit all the cities of Morocco from the north To the south, especially in the month of May, which gives you the freedom to choose the region you want to spend the holiday. in the summer the weather is very hot in the Desert of Morocco, so you will want warm weather here on the Atlantic coast.
What Gifts and Memories can you return from morocco?
As soon as you start walking in Morocco, you will think about which souvenir to buy for yourself or for the people you love. The worry, believe it, you will be spoiled for choice. Here are some tips to help you.
Handcrafted terracotta pottery
Wherever you go in the country, there will be shops selling handcrafted pottery items. Moroccans still use it today: they prepare their food in tagines, on terracotta braziers, and think that a real Moroccan couscous can only be served in a clay dish. You will find ashtrays, tagines-salad bowls-salt shakers, etc. There will be all sizes but the smallest are the most practical and often more affordable, The best pottery in the country comes from the city of Safi.
Clothes, hairstyles, and slippers.
Moroccan clothes are original and distinguished, Sellers usually wear them, You will be offered djellabas-Trousers-tunics of different cuts and fabrics, embroidered or without patterns. You'll notice that the style differs from region to region. The gandouras would be a better option: there are for men and women, take the color that speaks to you, it is elegant, comfortable, and light. Don't forget to take the slippers that go with it, you can always use them as slippers at home. Typical Moroccan slippers are made entirely of leather, so avoid those with plastic soles.
what is the currency of Morocco?
The official currency in circulation, which is used in the Kingdom of Morocco, is the currency of the Moroccan dirham, and it can be abbreviated as (MAD), and it is also the currency that is circulated in the Western Sahara region, and one dirham is made of one hundred divisions of the denomination of sub-denomination of sub The responsibility for the issuance and circulation of the currency in Morocco with its different classes and varieties (paper and metal) by the Moroccan Central Bank, and given the Moroccan currency price against the dollar, the US dollar is equivalent to the value of 9.6560 of the dirham for one dirham, according to the exchange rate for the dirham Two thousand and nineteen.
are the lunches included in Our private Tour?
the lunches don't include in all our tours, There will be plenty of cafes on the way to the Sahara desert where to stop for lunch. Please feel free to choose on your own, or follow your driver's recommendation if you wish.
Is it safe to travel to Morocco?
yes, Morocco is one of the safest countries in the world, you won't afraid about anything Morocco will make you happy.
what kind of clothes are in Morocco?
Moroccan traditional dress is the group of traditional and popular garments that Moroccans have preserved and still preserved for centuries, as it is evident that they cling to various traditional garments, especially in weddings and religious occasions, whether old or young, male or female. There is no doubt that the traditional costume is an integral part of the heritage, and heritage is one of the essential elements for the construction of civilization, it is necessary for the development of civilization, as the traditional costume is a tool for defining nations and a symbol for their distinctiveness and uniqueness and is the best witness to the degree of their awareness and the diversity of successive civilizations.
Can I customize my trip?
yes, you can do it, Contact us and tell us where will you start and end, Our team will help you with your request.
What are popular dishes in Morocco?
The Kingdom of Morocco, like other countries in the region, is characterized by many of its popular dishes or those that were the product of pollination of some civilizations whose name has long been associated with the Kingdom's name. In this report, we will know the most prominent of these dishes that Moroccans excelled in cooking.
Couscous … the food that is not missing from the table
Morocco is famous for its barbarian couscous food, which dates back to the time of BC. Couscous is divided into two types in the kingdom: couscous with vegetables or "seven vegetables" as Moroccans like to call it, while the second type is couscous "with raisins" or "with enough" depending on the region, and is considered Couscous is the main dish on Friday, and you can only find it on the lunch table.
"Tangia" .. Marrakech food
No one can visit the city of "Marrakech" unless it is eaten from the "Tangia" dish of the famous Jamaâ El Fna Square. This dish, which the city of "Red City" is famous for, consists of veal, ghee, olive oil, and free saffron filaments, in addition to spices. Moroccan and water.
Moroccan tajin
It is the most famous traditional Moroccan dish besides couscous, which comes from the Arab Maghreb and especially Morocco, and this dish is also very common in Algeria and Tunisia, but according to many studies it is of Berber origin.
REVIEWS
Zak H wrote a review ( March 2019 )
13 Days desert tours from Tangier
This trip was truly the most beautiful tour I have ever been on. First of all, our guide Hassan was the best guide you could ask for. He brought us very close and personally to the locals and was able to offer us a truly authentic experience in their culture. I was able to see some of the most beautiful places I have seen on this 13-day best of Morocco tour. I highly recommend this tour to see all the greatness that Morocco has to offer. My favorite places were the Sahara desert and the Atlas Mountains, absolutely breathtaking! Also meet nomads and amazing dinner at the local family home, best food of the trip … with camel burger 🙂
Now I have to let you know that we started this tour on March 2 and at that time COVID 19 was not a real problem, we had NO idea what was going on at home and when the speed increased. We finished our tour, with the last 2 days in Marrakech, where things came true! We had to quickly find new flights to get back home to Toronto as our original flights were canceled. It was not an easy task and it took us 4 days to find new flights that would not continue to be canceled. My deepest thanks to our tour guide Hassan for staying with us and making sure we were all okay and safe to go home, to the point that he made sure we were home safe and sound. He did NOT have to do this, as he did his job a few days ago, but he stayed by our side and did everything in his power to ensure our safety, our well-being, according to us, making sure we get home! If it weren't for him, I don't know what we would have done.
Overall this tour is a must-see, Enjoy and stay safe! Peace, love, and light!
Luis HB wrote a review ( March 2019 )
Amazing private 13 Days 12 nights trip from Tangier to Marrakech
I recently went on a 13-day cross-country expedition with Marrakech Tour Company on a tour titled "A Morocco Without Sailing".
Overall, it was a positive and enriching experience.
If you are looking for a professionally animated circuit covering a very large area (around 2000 km), this is the circuit.
The leader of the group was extremely happy: knowledgeable and eager to show foreigners his country and the joy of traveling with him for 13 days.
Just like the good driver, who efficiently took us from point to point.
Accommodation is quite varied, from 3-star hotels to desert tents. Very interesting differences.
The speed was a bit frantic, so be prepared to be quick at all times.
The few hikes we did were pretty tough so he should be in great shape.
Stops at local merchants and craft shops were a bit boring and misleading. They are not designed to educate you, but to sell you.
Finally, I cannot stress enough the importance of group dynamics. I couldn't get along with more than half of the group because they were so young and immature and nervous. Be prepared to be accepted or rejected by the majority of the group. It's a little difficult to function as a black sheep.
I have traveled alone, but most people have traveled as a couple or with friends.
Good luck!
David F wrote a review ( March 2019a )
# ENJOY Best 13 Day Morocco Itinerary from Tangier
I used Marrakech Tour Company for a 13-day desert tour in Morocco. Hassan is the owner and he helped me with my itinerary. They were all absolutely fantastic. I never worried about anything from pick up at Tangier airport to drop off at Marrakech airport. They were so awesome, knowledgeable, and friendly. We also visit Fez and Chefchaouen, the Merzouga desert.
Intinerary 13 days Desert tours from Tangier
Day 1: Tangier - Chefchaouen
The guide will be waiting for you at the port or airport of Tangier to travel in the direction of Chaouen. There we will let ourselves be lost in the streets of the "blue town". Chaouen, which in Berber means "the horns", is a beautiful city where the contrast of the white houses with the strong blue of its doors and windows and the green contour that the Lau river gives it is striking. Hotel accommodation.
Day 2: Chefchaouen - Ruin Romanas Volubilis - Meknez - Fes
We leave to Meknes in Our 13 days desert tours from Tangier, bordering the Maamora forest. Arrival in Meknes, a city that reached its peak thanks to the Sultan Mulay Ismail. 27 km from Meknes are the ruins of the Roman city of Volubilis, and the holy city Moulay Idriss is also visited. Continuation to Fez. Dinner and accommodation in the Hotel.
Day 3: Visit Fes World Heritage
During the morning we will have a guided visit to the oldest of the imperial cities. Founded in 808 as the first political, religious and cultural capital. We begin the visit through the Golden Gates of the Royal Palace. Later, from a high point, we will observe the wall that encloses an impressive and old medina. That we will then walk on foot experiencing the hundreds of sensations it arouses. We will discover mosques and madrasas, caravanserais, and religious places until we reach the tanners' quarter. Free time for lunch – not included – and we continue visiting the artisans' neighborhood. They brought their knowledge from Spain and have maintained Andalusian art and style to this day, giving Fes the well-deserved name of the city of artisans. In the end, they will have the rest of the afternoon free. Dinner and accommodation in a hotel.
Day 4: Fes - Ifrane - Azrou - Monkey Forest - Ziz Valley - Erfoud - Desert
on our day 4 of 13 days desert tours from Tangier, After breakfast, we drive to the Merzouga dunes. We will go to the Middle Atlas, and visit Ifrane, known as the Switzerland of Africa. The next town will be Azrou «the rock», where we will stop in its forest to see the monkeys in the wild. Then the path is followed by the Tizi Talghemt or Cuello del Camella, at 1,907 meters of altitude. The relief is impressive, the mountains are completely bare, clad in a purple coat. Arrive in Errachidia and get involved in the crossing of the Tafilalet massif to the Erfoud palm grove. We will continue along the track until we reach the famous sand dunes of Erg Chebbi next to Merzouga. Upon arrival, you will have free time to enjoy the calm of the desert and watch the dunes change color. Dinner and accommodation in Kasbah at the foot of the Erg Chebbi desert dunes.
Day 5: Visit Merzouga - Erg Chebbi
This day of 13 days desert tours from Tangier will be a stage where after having breakfast, we will cross another of the tracks used in the «Paris-Dakar Rally» visiting desert nomads with whom we will have tea and see the oasis where some movies were filmed like "Sahara", starring Penelope Cruz. We will visit the town of "the blacks", named after the slave trade that they brought from Sudan. And after eating we will change the traction of the 4 × 4 for that of animal traction. The dromedaries will take us into the desert of dunes to be able to contemplate an unforgettable sunset. This night will be special, we will sleep in the dunes in nomadic tents (Khaimas), as the Berbers do. Here we will enjoy a Berber dinner, music and a starry sky like you have never seen before. Dinner and accommodation in unforgettable Tents.
Day 6: Merzouga - Rissani - Erfoud - Todra Gorges - Dades Valley
After a good breakfast, we will leave for Rissani to visit the market and its famous donkey parking. It is a unique place, where all the tribes and nomads of the desert come to supply themselves. A very curious visit. Afterward, we will go to Erfoud where we will visit the fossil quarries older than 380 million years. We will continue until we reach the famous Gorges of Todra, a favorite place for climbers and trekking lovers. Finishing our tour in the Dades Valley. Dinner and accommodation in the Hotel.
Day 7: Dades - Valley of the Roses - Kasbah Ait Ben Haddou - Ouarzazate _ Marrakech
We will leave for the Valley of Dades by the «Route of a thousand Kasbhas». We will pass through the valley of the roses where its inhabitants make creams, soaps and rose water and then Ouarzazate we will know the famous kasbah of Ait Ben Haddou (Declared a World Heritage Site by UNESCO). Several famous films such as Gladiator, Obelix, Sahara with Penelope Cruz have been shot in this spectacular setting. At the end we pass through Ouarzazate and crossing the Tizi Ntichka pass (2,260m altitude) from the High Atlas we arrive in Marrakech. Hotel accommodation.
in our day 8 of 13 days desert tours from Tangier, you will Visit the city starting with the Menara gardens with its pond, the Saadian tombs where the founders of the city are located, the Bahia Palace – residence of the former vizier. ; the Koutobia with its splendid minaret, ending in the impressive DJemma El-Fná Square, which is a fabulous souk by day and a magical spectacle by night. Hotel accommodation.
Day 9: Marrakech - Free day - Hotel accommodation.
You will have to take your break and if you have the desire to take a small walk around Marrakech.
Day 10: Marrakech - Essaouira
starting our day 10 to Essaouira in 13 days desert tours from tangier, After breakfast, on a road with argan trees, we will head towards the old Portuguese fortification and the coastal city of Essaouira. The rest of the time will be free to visit the beautiful medina and the souk. Hotel accommodation.
Day 11: Essaouira - El Jadida – Casablanca.
After Breakfast. Departure to Casablanca via El Jadida. Stop in Oualidia. Continuation through the coast to El Jadida. Visit of Vestiges of the Portuguese. Continuation to Casablanca. Accommodation.
Day 12: Casablanca – Rabat.
After breakfast we will visit the magnificent Hassan II Mosque and we will know the most emblematic points of the city: the Boulevard de la Corniche, the Park of the Nations and the Mohamed V square. Later we will continue towards Rabat, administrative capital of the country, to make a brief panoramic visit of the exterior of the Royal Palace and its gardens, the Hassan Tower and the Mausoleum of Mohamed V. Hotel accommodation.
Breakfast at the hotel and at the indicated time, transfer to the airport or port of Tangier.the  End of our 13 Days desert tours from Tangier.
What's included: in 13 days Morocco Tours
What's not included: in 13 days Morocco Tours
NOTE: If this 13 days desert tours from Tangier do not match what you're looking for, Contact us and we will prepare the trip to your needs and requirements.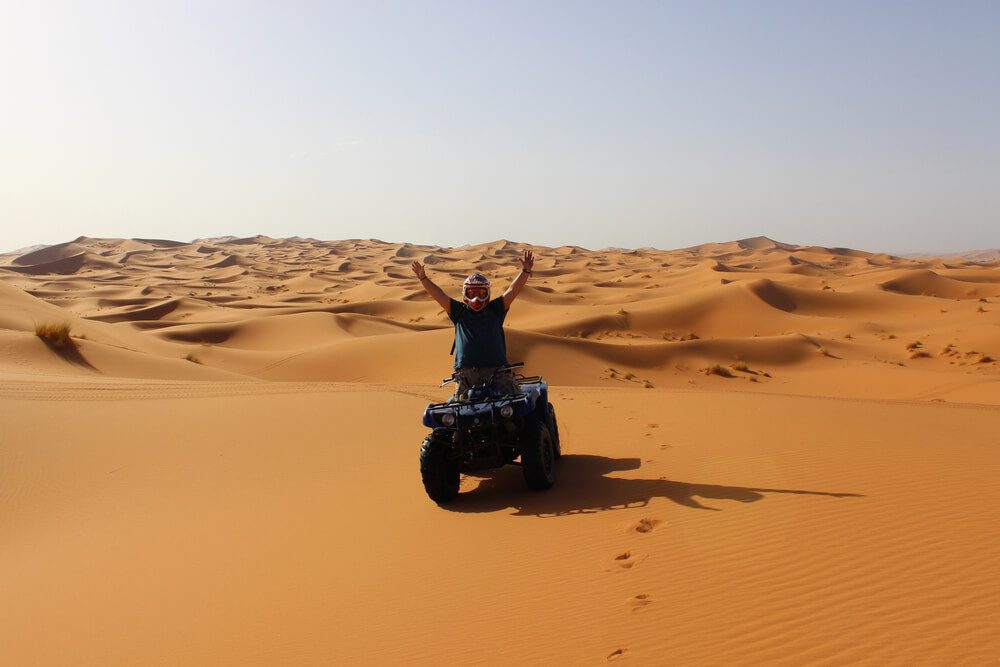 EstefaníaSC
Our desert family
Our experience with Said as a host has been wonderful. Starting with the facilities, camp with all the luxuries you need to feel like you are at home. Helpful and pleasant staff. We made a fairly complete excursion, we visited mineral mines, a nomadic family that invited us to tea, and the Khamlia village with their Gnawa music, all adorned with music and laughter that has made us live great moments. Without a doubt an experience to repeat! Thank you so much! we are happy to write these Testimonials on Morocco desert tours to keep Our love for the Marrakech tour Company. we will come back soon.
Silvia S
Incredible experience!!
I went with my husband and daughters to Casablanca and Merzouga from Marrakech, on a private tour organized by Hassan's company and it was fantastic. Our times and preferences were contemplated, the guide Said was extremely friendly, polite, and informed. In the desert we had a great time, Mohamed and Ibrahim took care of everything in the Tents, which were very comfortable. Excellent and abundant food. Recommended as a unique experience. Silvia S.
Gertjan
Morocco
An unforgettable experience. Hassan, our driver, is a wonderful person. He was attentive to us the 6 days that our tour lasted (Marrakech – Merzouga – Casablanca). He cared that we were comfortable, at ease in his land. From his own nomadic experience, he will tell you stories of his life and that of his friends, you will learn how Morocco works, you will eat like a Berber and you will feel at home. You can stop wherever you want, you just have to ask! It will advise you where to buy things to avoid scams or scams. You will learn their language, and by the light of the stars, you will play and dance Amazigh music in the middle of the desert. We forgot a backpack and jacket in the desert and another driver brought it to us at the airport, without asking us for anything. We are leaving the desert with many memories and friends, that without a doubt, we hope to see again. Said, Hassan, Mohamed, Ali... marrakech to Merzouga desert 6 days
Jhone
Welcome, Mama Africaaa
We went to Merzouga on our own in a rental car. An hour before arriving we saw the advertisement for Hassan's camp on Airbnb and we didn't hesitate to book with him. He contacted us instantly, he sent us the coordinates of the hotel in Merzouga and he and the boys waited for us to take us where the camels were waiting. From the first moment, they treated us like lifelong friends and made us feel part of the desert. Although we booked in the standard camp, they installed us in the superior one because there was space there, without asking for anything in return. And what a camp, it's better than a 5-star hotel, with private bathrooms, hot shower, new duvets, and blankets … And the food even better, the best dinner and breakfast of our trip to Morocco. I will recommend Said and the boys to all the friends who want to visit the desert because they are wonderful people who make it an unforgettable experience. We will always carry them in our hearts, and we will surely return. Mama Africaaa !! Our Testimonials Morocco desert tours to Marrakech tour Company, we thank you so much for Everything.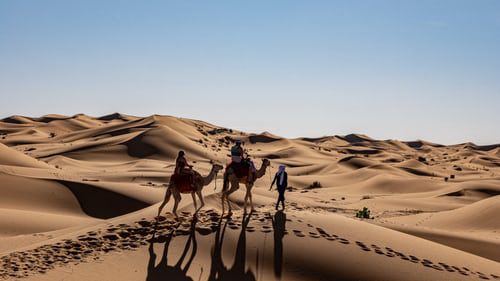 Cris
Discovering Morocco
I think I cannot describe my experience in words ... it has been a magical trip, special, I have discovered a country with some incredible people, I only have words of infinite thanks, Hassan, Said, and your friends, you have treated us like yours family, you have made us live a most authentic and beautiful experience, you are beautiful people that I am infinitely grateful to have met you on this path, I will undoubtedly come back to visit you, to sit next to you, to make you feel that way and to continue discovering that beautiful country! A little piece of yours is already in my heart forever! "Testimonials Morocco desert tours"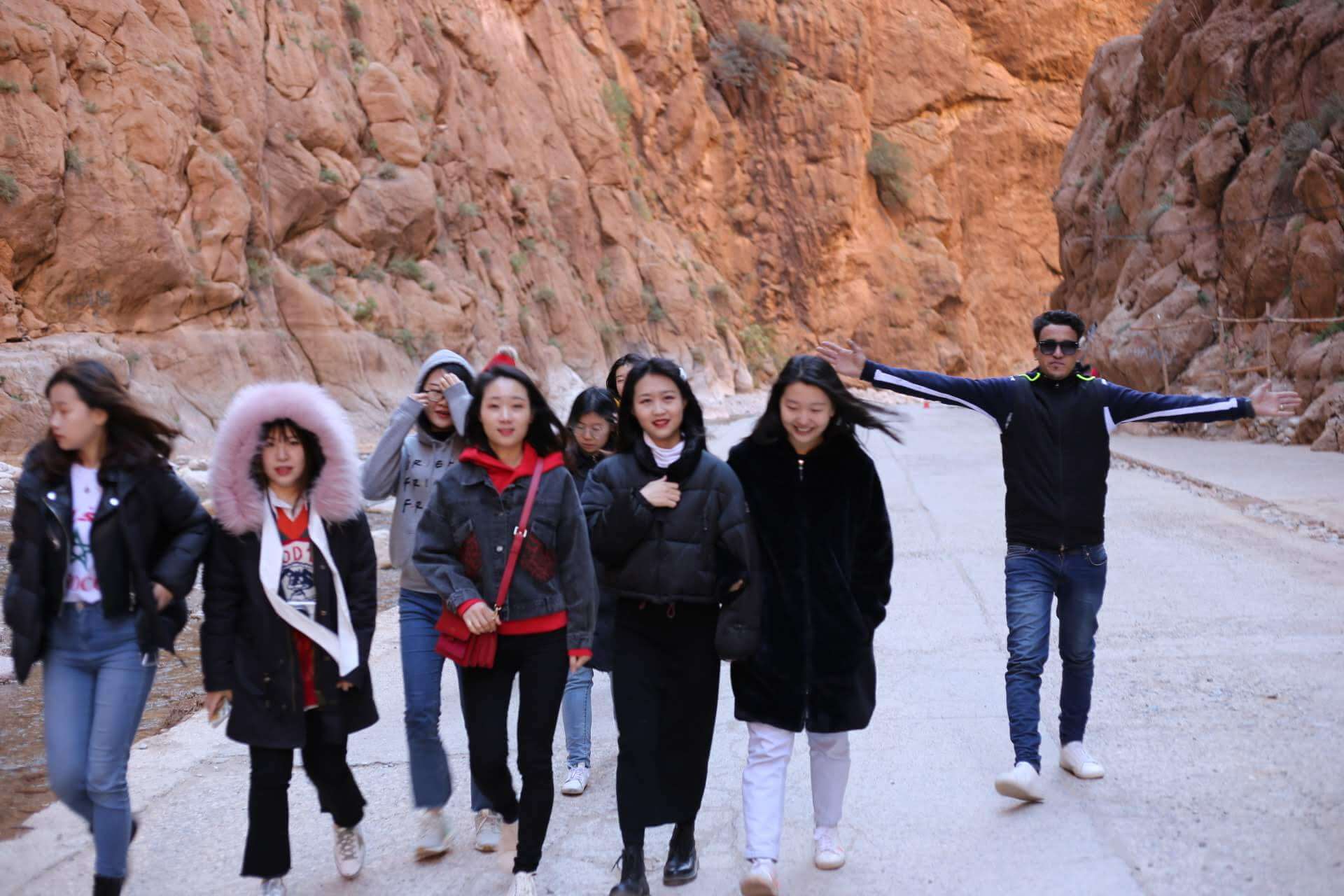 Teresa G
AN EXPERIENCE TO REPEAT
It has been an excellent trip, from minute one, our guide could not be better, as a person, attentive, polite and above all very good driver. The desert experience is magnificent, the night in the unbeatable camp, the expectacular hotel in the desert. Totally recommendable. We will repeat with you of course and we will recommend you to 100 and 100. A pleasure to have made the trip with you. A hug to the whole team.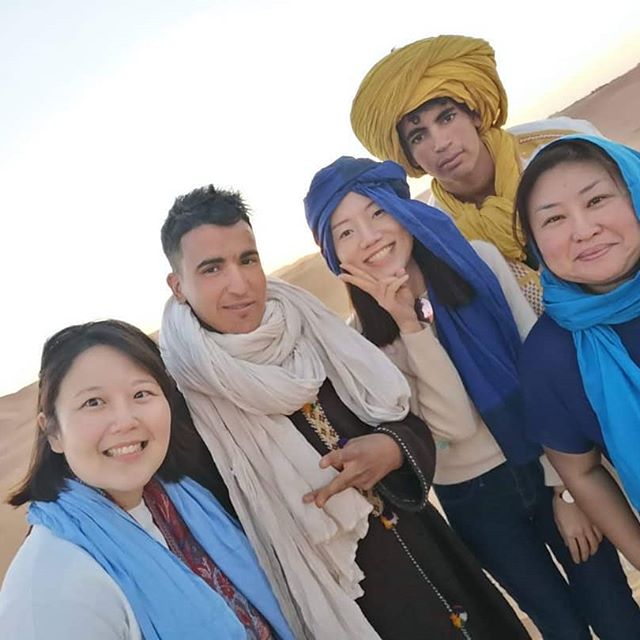 Carina M
My vacation days
2 years ago they passed me the contact of this boy, I always looked at his page and I never decided on Marrakech. One day I wrote to him and asked him about his tours and Hassan did not hesitate at any time to marvel at his country. As soon as I explained, I told him to prepare a 7-day tour and that was all we talked about until Q arrived. It has been a vacation where curiosity was above me and this wonderful family filled my soul with things and feelings Q was fading, seeing the reality of life and life is very simple, and being happy depends on how you decide to live it. In summary, I found how I say my Sahara family. And in no time I will return to visit the north. See you soon...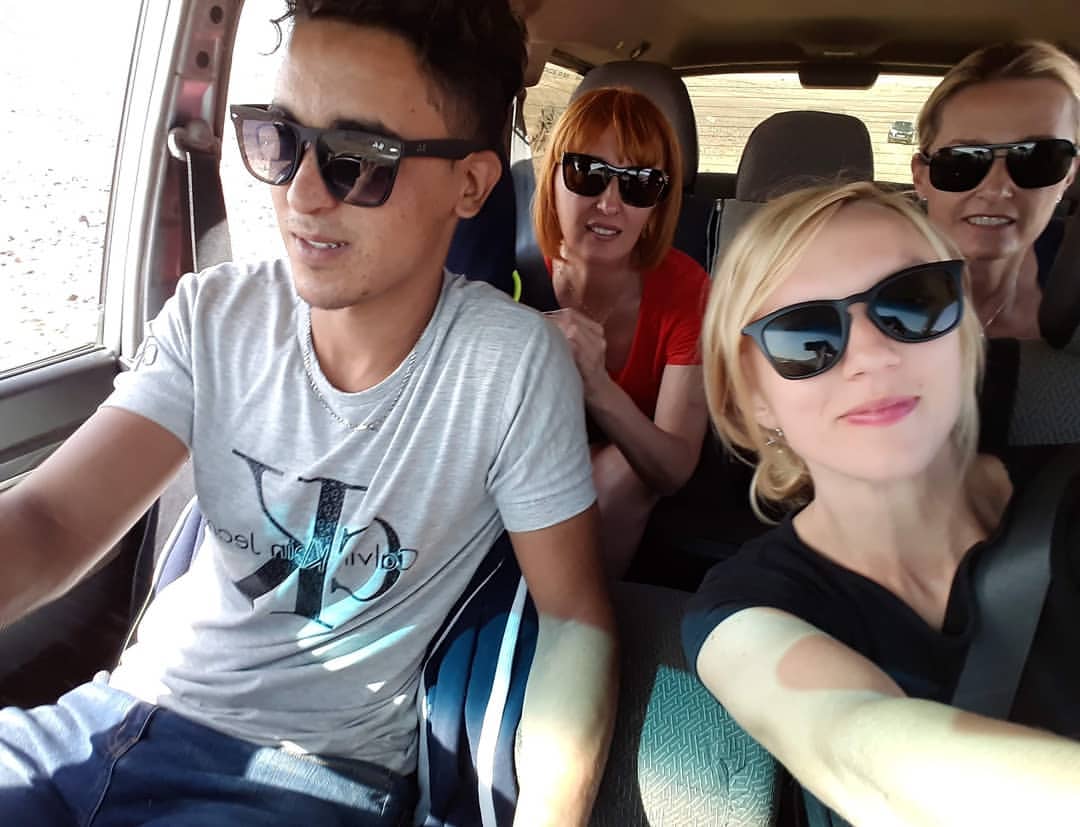 Lauropin
Morocco desert tours with HASSAN AND SAID
My boy and I were a little over a week ago making a route through southern Morocco. We have Hassan, who helped us a lot to organize it and be able to visit the best in the days we had and the area we wanted to see, without a doubt, a discovery. We had never been to this incredible country, and it left us totally impressed, even with certain cultural differences, we are very similar. Said accompanied us everywhere, telling us stories of the places and giving us time to enjoy each place, he behaved like a true traveling companion. Then we met Hassan in the desert, who hosted our stay there, concerned that we were comfortable at all times. He gave us a walk that was the icing on the cake in our desert experience, so much so that we can't wait to go back and dedicate every day to the dunes !! Thank you very much for everything, traveling with people like you makes the experience even better !! We will return without a doubt !!