13 Days in Morocco Tour from Tangier
On this 13 Days desert Tour from Tangier, you will Discover a millenary culture with a great artistic heritage.
Get to know the most important beautiful cities in Morocco: explore the blue city of Chefchaouen, its cultures-traditional and its crazy street markets, and discover the fascinating old Medina of Fez with a local guide.

Visit Fez, it is a charming city for its visitors as it is an ancient city surrounded by hills and forests, which made it one of the most beautiful places in the region there, and it enjoys the original Moroccan architecture that was untouched by any modern architectural intervention.
In addition to the narrow streets, the city is characterized by mosaic art and arched entrances Beautiful ironworks, as well as a rich historical legacy, as it is possible to visit medieval Roman ruins, in addition to the ruins of an empire dating back to the third century.
We will discover the Atlas Mountains with their Beautiful traditional buildings, Ride Camels in the Sahara desert of Erg Chebbi to see the beautiful sunset and you will spend a great night with a sky full of stars in a Desert camp( Berber tents), we will see The fantastic two valleys, Roses valley, and Dades valley then the Todra Gorge, then visit the Old Kasbah of Ait ben Haddou that has an old history, it's Unesco world heritage. We will drive through the curvy road via the Atlas Mountains to reach Marrakech.
Morocco Itinerary 13 days desert tour from Tangier's Info:
+ Duration: 13 Days & 12 nights
+ Departure: 08:00 am
+ Starting Location: Tangier
+ Ending Location: Tangier
Morocco 13 Days desert tour from Tangier's Highlights:
+ Drive through Rife Mountains to Chefchaouen and spend your night
+ Explore Ruin Romanas Volubilis and Meknes to Fes
+ Visit Fez and get to know the beautiful places
+ Ride a camel in Merzouga while assisting to 
+ Sleep under the stars in Erg Chebbi desert camp
+ Discover Merzouga Desert and get to know nomads people and their cultures
+ Get to know the souks of Rissani and Visit  The Todgha Gorges
+ Drive to Dades Valley
+ Visit the UNESCO world heritage site of Ait Ben Hadou 
+ Cross the High Atlas Mountains and its Tizi Ntichka to Marrakech
+ Visit Marrakech
+ Visit Essaouira
+ Drive Through Casablanca and Visit Hassan 2 Mosque
+ Get to know Rabat and Hassan's tower
+ Drive back to Tangier via the fantastic views of the villages
Itinerary of 13 days Desert tours from Tangier Morocco
Day 1: Tangier - Chefchaouen
The guide will be waiting for you at the port or airport of Tangier to travel in the direction of Chaouen. There we will let ourselves be lost in the streets of the "blue town". Chaouen, which in Berber means "the horns", is a beautiful city where the contrast of the white houses with the strong blue of its doors and windows and the green contour that the Lau river gives it is striking. Hotel accommodation.
Day 2: Chefchaouen - Ruin Romanas Volubilis - Meknez - Fes
We leave to Meknes in Our 13 days desert tours from Tangier, bordering the Maamora forest. Arrival in Meknes, a city that reached its peak thanks to the Sultan Mulay Ismail. 27 km from Meknes are the ruins of the Roman city of Volubilis, and the holy city Moulay Idriss is also visited. Continuation to Fez. Dinner and accommodation in the Hotel.
Day 3: Visit Fes World Heritage
During the morning we will have a guided visit to the oldest of the imperial cities. Founded in 808 as the first political, religious, and cultural capital. We begin the visit through the Golden Gates of the Royal Palace. Later, from a high point, we will observe the wall that encloses an impressive old medina.
That we will then walk on foot experiencing the hundreds of sensations it arouses. We will discover mosques and madrasas, caravanserais, and religious places until we reach the tanners' quarter. Free time for lunch – not included – and we continue visiting the artisans' neighborhood.
They brought their knowledge from Spain and have maintained Andalusian art and style to this day, giving Fes the well-deserved name of the city of artisans. In the end, they will have the rest of the afternoon free. Dinner and accommodation in a hotel.
Day 4: Fes - Ifrane - Azrou - Monkey Forest - Ziz Valley - Erfoud - Desert
on our day 4 of 13 days desert tour from Tangier, After breakfast, we drive to the Merzouga dunes. We will go to the Middle Atlas, and visit Ifrane, known as the Switzerland of Africa.
The next town will be Azrou «the rock», where we will stop in its forest to see the monkeys in the wild.
Then the path is followed by the Tizi Talghemt or Cuello del Camella, at 1,907 meters of altitude. The relief is impressive, the mountains are completely bare, clad in a purple coat.
Arrive in Errachidia and get involved in the crossing of the Tafilalet massif to the Erfoud palm grove.
We will continue along the track until we reach the famous sand dunes of Erg Chebbi next to Merzouga.
Upon arrival, you will have free time to enjoy the calm of the desert and watch the dunes change color. Dinner and accommodation in Kasbah at the foot of the Erg Chebbi desert dunes.
Day 5: Visit Merzouga - Erg Chebbi
This day of 13 days desert tour from Tangier will be a stage where after having breakfast, we will cross another of the tracks used in the «Paris-Dakar Rally» visiting desert nomads with whom we will have tea and see the oasis where some movies were filmed like "Sahara", starring Penelope Cruz. We will visit the town of "the blacks", named after the slave trade that they brought from Sudan.
And after eating we will change the traction of the 4 × 4 for that of animal traction. The dromedaries will take us into the desert of dunes to be able to contemplate an unforgettable sunset.
This night will be special, we will sleep in the dunes in nomadic tents (Khaimas), as the Berbers do. Here we will enjoy a Berber dinner, music, and a starry sky as you have never seen before. Dinner and accommodation in unforgettable Tents.
Day 6: Merzouga - Rissani - Erfoud - Todra Gorges - Dades Valley
After a good breakfast, we will leave for Rissani to visit the market and its famous donkey parking. It is a unique place, where all the tribes and nomads of the desert come to supply themselves. A very curious visit.
Afterward, we will go to Erfoud where we will visit fossil quarries older than 380 million years. We will continue until we reach the famous Gorges of Todra, a favorite place for climbers and trekking lovers.
Finishing our tour in the Dades Valley. Dinner and accommodation in the Hotel.
Day 7: Dades - Valley of the Roses - Kasbah Ait Ben Haddou - Ouarzazate _ Marrakech
We will leave for the Valley of Dades by the «Route of a thousand Kasbhas». We will pass through the valley of the roses where its inhabitants make creams, soaps, and rose water, and then in Ouarzazate, we will know the famous kasbah of Ait Ben Haddou (Declared a World Heritage Site by UNESCO). Several famous films such as Gladiator, Obelix, Sahara with Penelope Cruz have been shot in this spectacular setting.
At the end we pass through Ouarzazate and cross the Tizi Ntichka pass (2,260m altitude) from the High Atlas we arrive in Marrakech. Hotel accommodation.
in our day 8 of 13 days desert tours from Tangier, you will Visit the city starting with the Menara gardens with its pond, the Saadian tombs where the founders of the city are located, the Bahia Palace – residence of the former vizier. ; the Koutobia with its splendid minaret, ending in the impressive DJemma El-Fná Square, which is a fabulous souk by day and a magical spectacle by night. Hotel accommodation.
Day 9: Marrakech - Free day - Hotel accommodation.
You will have to take your break and if you have the desire to take a small walk around Marrakech.
Day 10: Marrakech - Essaouira
starting our day 10 to Essaouira in 13 days desert tours from tangier, After breakfast, on a road with argan trees, we will head towards the old Portuguese fortification and the coastal city of Essaouira. The rest of the time will be free to visit the beautiful medina and the souk. Hotel accommodation.
Day 11: Essaouira - El Jadida – Casablanca.
After Breakfast. Departure to Casablanca via El Jadida. Stop in Oualidia. Continuation through the coast to El Jadida. Visit of Vestiges of the Portuguese. Continuation to Casablanca. Accommodation.
Day 12: Casablanca – Rabat.
After breakfast we will visit the magnificent Hassan II Mosque and we will know the most emblematic points of the city: the Boulevard de la Corniche, the Park of the Nations and the Mohamed V square. Later we will continue towards Rabat, administrative capital of the country, to make a brief panoramic visit of the exterior of the Royal Palace and its gardens, the Hassan Tower and the Mausoleum of Mohamed V. Hotel accommodation.
Breakfast at the hotel and at the indicated time, transfer to the airport or port of Tangier.the  End of our 13 Days desert tours from Tangier.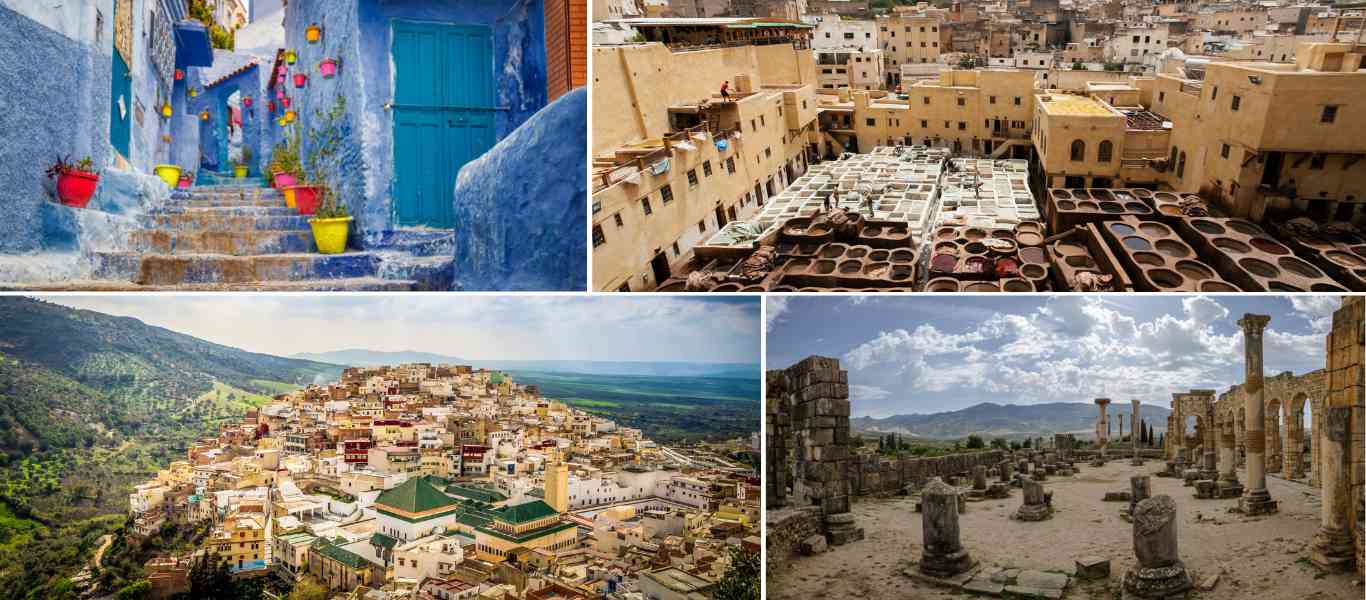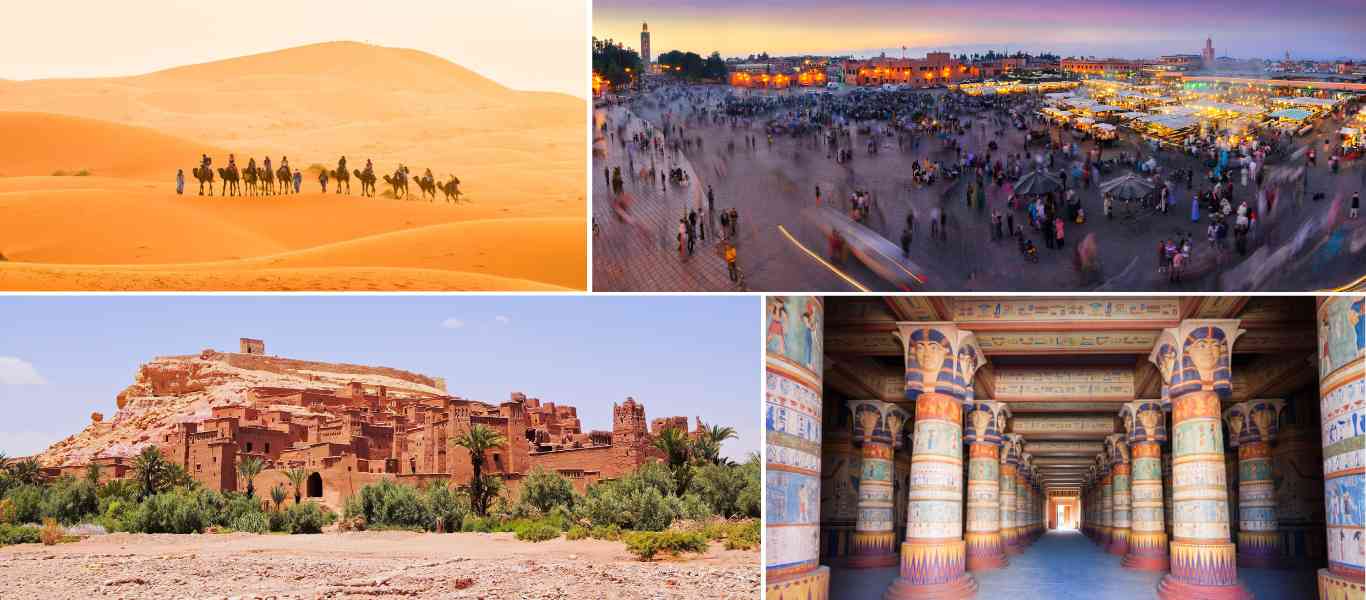 13 Days Desert Tour from Tangier Includes:
13 Days Desert tour from Tangier Excludes:
NOTE:
If this 13 Days Desert Tour from Tangier does not match what you're looking for, Contact us and we will prepare the trip to your needs and requirements.
13 Days desert tour from Tangier Reviews:
Desert Tour from Tangier 13 Days in Morocco Itinerary
This trip was truly the most beautiful tour I have ever been on. First of all, our guide Hassan was the best guide you could ask for. He brought us very close and personal to the locals and was able to offer us a truly authentic experience in their culture. I was able to see some of the most beautiful places I have seen on this 13-day best of Morocco tour.
I highly recommend this tour to see all the greatness that Morocco has to offer. My favorite places were the Sahara desert and the Atlas Mountains, absolutely breathtaking! Also meet nomads and amazing dinner at the local family home, the best food of the trip … with a camel ride.
Now I have to let you know that we started this tour on March 2 and at that time COVID-19 was not a real problem, we had NO idea what was going on at home and when the speed increased.
We finished our tour, with the last 2 days in Marrakech, where things came true! We had to quickly find new flights to get back home to Toronto as our original flights were canceled. It was not an easy task and it took us 4 days to find new flights that would not continue to be canceled.
My deepest thanks to our tour guide Hassan for staying with us and making sure we were all okay and safe to go home, to the point that he made sure we were home safe and sound.
He did NOT have to do this, as he did his job a few days ago, but he stayed by our side and did everything in his power to ensure our safety, and our well-being, according to us, making sure we get home! If it weren't for him, I don't know what we would have done. Overall this tour is a must-see, Enjoy and stay safe! Peace, love, and light!
Best 13 Days desert trip from Tangier Morocco
I recently went on a 13-day expedition with Marrakech Tour Company on a tour called "A Morocco Without Sail". Overall, it was a positive and rewarding experience.

If you are looking for a professionally lively circuit that covers a very large area (about 2000 km), this is the circuit. The leader of the group was extremely happy: he knew and was eager to show foreigners his country and the joy of traveling with him for 13 days.

As good drivers, we drove efficiently from point to point. The accommodation is very varied, from 3-star hotels to desert shops. Very interesting differences. The speed was a bit hectic, so be prepared to be fast at any time.

The few walks we did were pretty tough, so it should be in great shape. Stops in local shops and craft shops were a bit boring and misleading. They are not designed to educate you, but to sell you. Finally, I must stress the importance of group dynamics. I couldn't get along with more than half the group because they were so young, immature, and nervous.
Prepare to be accepted or rejected by the majority of the group. It is a bit difficult to function as a black sheep. I have traveled alone, but most people have traveled in pairs or with friends.
Good luck to you!
Perfect 13 days desert tour from Tangier in Morocco Itinerary
I used the Marrakech Tour Company for a 13 days desert tour in Morocco from Tangier. Hassan is the owner and helped me with my itinerary. They were all absolutely fantastic. I never worried about anything from the pick-up at Tangier airport to the drop-off at Marrakech airport. They were so impressive, knowledgeable, and friendly. We also visited Fez and Chefchaouen, the desert of Merzouga.
Related Tours: Itinerary in Morocco 13 Days Desert Tour from Tangier
We provide customized private Desert tours and group tours as well. If you are ready to start your journey from Tangier, you should check out these Tours. However, if they do not meet your needs, you can simply contact us and customize your itinerary.