One Day trip to Chefchaouen from Fes
One day Trip from Fes to Chefchaouen
Best Chefchaouen Day trip - Fes to the blue city
One Day trip to Chefchaouen from Fes, it is famous for its "blue" color in town. A full day trip from Fes to Chefchaouen is a must-do as you'll be traveling to the Rif Mountains by private, air-conditioned vehicle. Our driver will pick you up from your accommodation at the right time to start your full-day excursion to Chefchaouen from Fes you will have hours to explore the city's centuries-old Medina, including the Grand Mosque and the Kasbah.
Day Trip Info:
Chefchaouen:
Beautifully perched under the peaks of the raw countryside, Chefchaouen is one of the most beautiful cities in Morocco, an artistic, blue mountain city that resembles its own world. If tourism has certainly taken hold, the balance between ease and originality is perfect. The old city of Chefchaouen is a delight for Moroccan and Andalusian influence, also the red-tiled roofs can attract tourists to love it, with the bright-blue buildings, and as well as the colored streets nearby from the bustling Uta Hammam Square and the restored Kasbah. Longtime backpackers were known for the easy availability of kef (hemp), and the city quickly became cumbersome and offers a variety of high-quality accommodations, great food, and plenty of activities to do, and there is no hassle to talk about, making it a solid alternative to the hustle and bustle. Multiple cities. deviation. It's a great place to relax, explore, and take day trips to the gorgeous green hills.
Fes:
In its heyday, Fez attracted academics, philosophers, mathematicians, lawyers, astronomers, and religious scholars. Craftsmen built houses and palaces for them, mosques and madrasas were discontinued, and merchants offered exotic products from the silk and sub-Saharan trade routes. Although Fez lost its influence at the beginning of the nineteenth century, it remains a very self-confident city, whose cultural and spiritual lineage attracts visitors. Some of the medieval remnants of the world's largest car-free metropolitan area: donkeys transport goods through lane burrows, and although the enclaves are still in ruins, the government's efforts to retake the city are bearing fruit.
About 90,000 people still live in Fez. It might seem that you are constantly in a hustle. Some visitors fall in love instantly, others retreat in awe. But its charms are numerous. Seemingly blocked roads lead to courtyards with fountains and gorgeous streets lined with fragrant food stalls, rooftops unfolding a sea of ​​minarets and curving doors revealing relentless craftsmen.
FAQ:
What's the best time to travel to Morocco?
actually, Morocco is perfect for travel all year. the best time to visit the Sahara desert is The spring season that runs from March to May it is the best time to visit the desert of Morocco so that this period is characterized by moderate and beautiful weather, and Morocco knows calm rains and warm weather and is comfortable for tourism and enjoy its beauty, in this period you can visit all the cities of Morocco from the north To the south, especially in the month of May, which gives you the freedom to choose the region you want to spend the holiday. in the summer the weather is very hot in the Desert of Morocco, so you will want warm weather here on the Atlantic coast.
What Gifts and Memories can you return from morocco?
As soon as you start walking in Morocco, you will think about which souvenir to buy for yourself or for the people you love. The worry, believe it, you will be spoiled for choice. Here are some tips to help you.
Handcrafted terracotta pottery.
Wherever you go in the country, there will be shops selling handcrafted pottery items. Moroccans still use it today: they prepare their food in tagines, on terracotta braziers, and think that a real Moroccan couscous can only be served in a clay dish. You will find ashtrays, tagines-salad bowls-salt shakers, etc. There will be all sizes but the smallest are the most practical and often more affordable, The best pottery in the country comes from the city of Safi.
Clothes, hairstyles, and slippers.
Moroccan clothes are original and distinguished, Sellers usually wear them, You will be offered djellabas-Trousers-tunics of different cuts and fabrics, embroidered or without patterns. You'll notice that the style differs from region to region. The gandouras would be a better option: there are for men and women, take the color that speaks to you, it is elegant, comfortable, and light. Don't forget to take the slippers that go with it, you can always use them as slippers at home. Typical Moroccan slippers are made entirely of leather, so avoid those with plastic soles.
what is the currency of Morocco?
The official currency in circulation, which is used in the Kingdom of Morocco, is the currency of the Moroccan dirham, and it can be abbreviated as (MAD), and it is also the currency that is circulated in the Western Sahara region, and one dirham is made of one hundred divisions of the denomination of sub-denomination of sub The responsibility for the issuance and circulation of the currency in Morocco with its different classes and varieties (paper and metal) by the Moroccan Central Bank, and given the Moroccan currency price against the dollar, the US dollar is equivalent to the value of 9.6560 of the dirham for one dirham, according to the exchange rate for the dirham Two thousand and nineteen.
are the lunches included in Our private Tour?
the lunches don't include in all our tours, There will be plenty of cafes on the way to the Sahara desert where to stop for lunch. Please feel free to choose on your own, or follow your driver's recommendation if you wish.
Is it safe to travel to Morocco?
yes, Morocco is one of the safest countries in the world, you won't afraid about anything Morocco will make you happy.
what kind of clothes are in Morocco?
Moroccan traditional dress is the group of traditional and popular garments that Moroccans have preserved and still preserved for centuries, as it is evident that they cling to various traditional garments, especially in weddings and religious occasions, whether old or young, male or female. There is no doubt that the traditional costume is an integral part of the heritage, and heritage is one of the essential elements for the construction of civilization, it is necessary for the development of civilization, as the traditional costume is a tool for defining nations and a symbol for their distinctiveness and uniqueness and is the best witness to the degree of their awareness and the diversity of successive civilizations.
Can I customize my trip?
yes, you can do it, Contact us and tell us where will you start and end, Our team will help you with your request.
What are popular dishes in Morocco?
The Kingdom of Morocco, like other countries in the region, is characterized by many of its popular dishes or those that were the product of pollination of some civilizations whose name has long been associated with the Kingdom's name. In this report, we will know the most prominent of these dishes that Moroccans excelled in cooking.
Couscous … the food that is not missing from the table.
Morocco is famous for its barbarian couscous food, which dates back to the time of BC. Couscous is divided into two types in the kingdom: couscous with vegetables or "seven vegetables" as Moroccans like to call it, while the second type is couscous "with raisins" or "with enough" depending on the region, and is considered Couscous is the main dish on Friday, and you can only find it on the lunch table.
"Tangia" .. Marrakech food.
No one can visit the city of "Marrakech" unless it is eaten from the "Tangia" dish of the famous Jamaâ El Fna Square. This dish, which the city of "Red City" is famous for, consists of veal, ghee, olive oil, and free saffron filaments, in addition to spices. Moroccan and water.
Moroccan Tajin.
It is the most famous traditional Moroccan dish besides couscous, which comes from the Arab Maghreb and especially Morocco, and this dish is also very common in Algeria and Tunisia, but according to many studies it is of Berber origin.
How can I access the Internet in Morocco?
The main networks operating in Morocco are Maroc Telecom, Orange, Inwi. It is quite simple to purchase a prepaid SIM card at the airport or tobacco stands in the cities provided your smartphone is unlocked. Or you can get wifi at a restaurant or cafe.
Can I visit the Sahara Desert in the summer?
Many clients request a tour of the Sahara during the months of June, July, August, and early September. If Morocco is on your agenda for your summer vacation. Do so, our vehicles will be equipped with air conditioning during your visit, including your room in each hotel. Regarding the camel trek in the Sahara, we start this activity very late, where the weather is cooler.
Do I need medication for my trip to Morocco?
You can bring it (Imodium) in case of diarrhea, you never know how your body system will react to new foods from different waters.
Can I travel with my children to visit Morocco?
Insurance! Traveling is the perfect way to open up a child's world to possibilities and wonders. Strong experiences lead to new interests, and exposure to different cultures, languages, and environments helps today's children to become the responsible and balanced adults of tomorrow. If you are traveling in a spacious, air-conditioned luxury car, you will have a special tour with fewer hours of driving in the vehicle, including many stops throughout the Morocco tour.
How should I dress in Morocco?
Morocco is becoming more modern than before, most of the country is used to tourists. In general, a woman traveling to Morocco should wear long skirts and dresses, jeans or pants.
What is the average tip in Morocco?
Although tipping is not compulsory in Morocco, rounding off the bill and tipping in restaurants and cafes is common practice. If you are happy with the service provided by the waiters, drivers, and other service employees, leaving a small tip of "20 DH" is a good way to show your appreciation.
price per person:
the price includes how many persons you're
one day Trip from Fes to Chefchaouen Highlights:
 Panoramic views of the beautiful blue city
 Wander the tranquil blue alleys of the medina
 Embrace the hustle and bustle of the main square Plaza Uta El- Hammam
 Visit the 15th century Grand Mosque, kasbah, and associated gardens, museum, and art gallery
 Taste the famous goats' cheese
 Relax by the Ras El-Maa Waterfall and surrounding mountains
Duration: 1 day
Departure time: Around 8H30 in the morning​
Starting point: Your hotel/riad in Fes
Ending point: Your hotel/riad in Fes
one day Trip from Fes to Chefchaouen Itinerary
Our one day trip from Fes to Chefchaouen will depart at 08:00 am from your accommodation in Fes. We'll head north, in an air-conditioned vehicle, for three hours to reach the small town of Chefchaouen. Along the way, you'll be mesmerized by views of the Rif Mountains and the rolling hills of Ouezzane. Stop to enjoy the landscape, cool air, and capture amazing photos.
Located just inland from Tangier and Tetouan, Chaouen, as referred to by the locals, was founded as a fortress in the 1400s. Chefchaouen is renowned for its dreamy blue-rinsed houses, its artisanal wool products, and delicious, top-quality goat cheese. Its name refers to the shape of the mountain tops above the town, which look like the two horns (chaouen) of a goat. Water is abundant in this hillside town creating a network of mineral-rich caves surrounding the mountains.
Stop on top of the mountain to enjoy a panoramic view of Chefchaouen. You'll arrive at 12:00 PM and have four hours free to explore the small winding streets of the town. Visit the medina to peruse Arab-Andalusian traditions and products. Visit the main square Plaza Uta El- Hammam, where the amazing 15th century Grand Mosque and kasbah sits. This Mosque, with its unusual octagonal tower, was built by Jewish refugees who alongside Muslims escaped Spanish persecution by fleeing to Chefchaouen. Learn about the history and culture of this area at the Kasbah Museum or the Ethnographic Museum which contains musical instruments, antique weapons, and photographs of the old town.
Visit the famous Ras El-Maa Waterfall to breathe in some fresh air while listening to the sound of water and enjoying the green hills. If you keep walking, you will get a beautiful view of the city from the Spanish Mosque, an easy walk up the hill. Enjoy a tasty lunch in the square or from a rooftop restaurant and indulge in some people watching. On a hot day cool yourself with lunch sitting in the riverbed.
In the late afternoon depart for Fez arriving at 08:00 PM.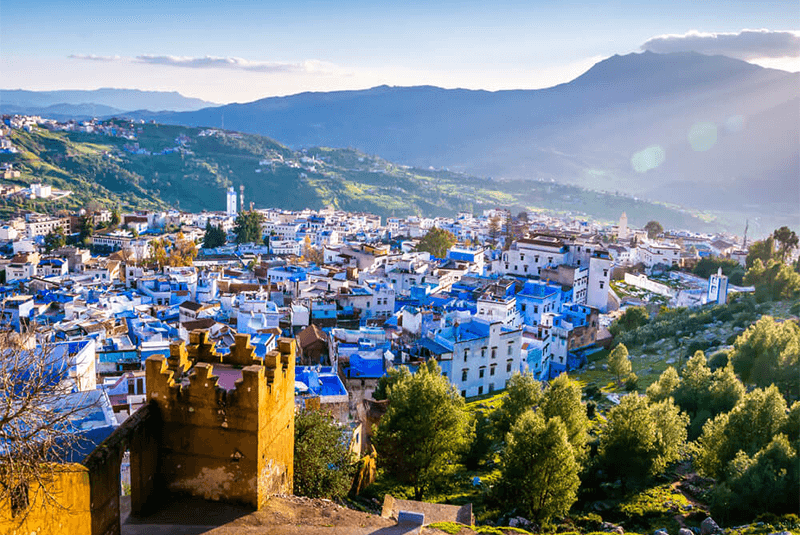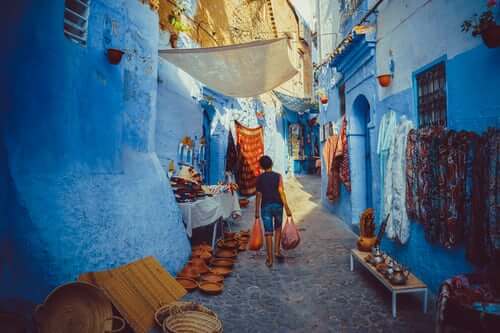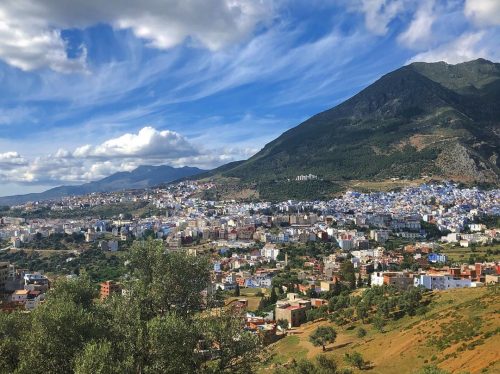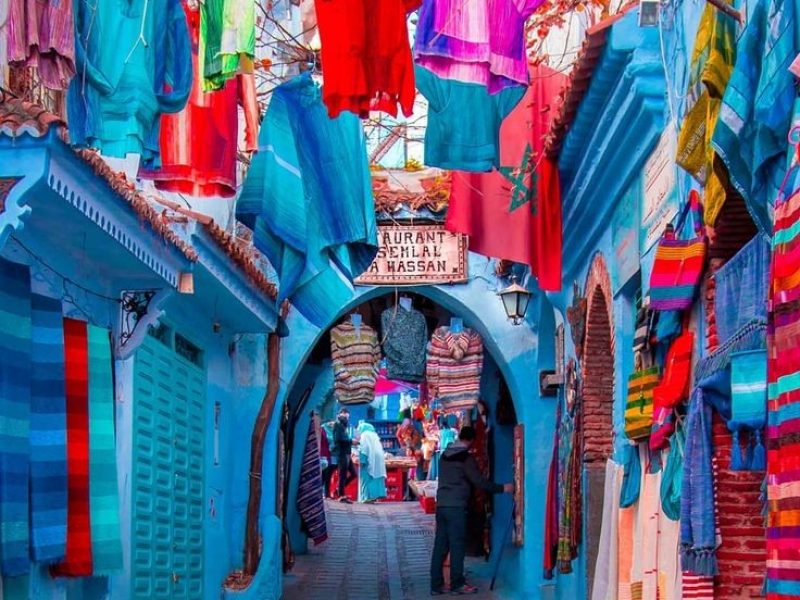 NOTE: If this One Day trip from Fes to Chefchaouen does not match what you're looking for, don't hesitate to Contact us and we will prepare the trip to your needs and requirements.
Fes Day trip to Chefchaouen reviews
Patriciapmarse
Full-Day Tour to Chefchaouen from Fes
We had fun! It was a four hour trip there, four hours there, and four hours ago! Our driver and guide stayed with us the entire time and they were great! They found us a local guide who showed us all the beauty of the city! He also took us to a great restaurant for lunch!
L Ramsey
Day Trip from Casablanca Fes to Chefchaouen blue city
Our day trip from Fes to Chefchaouen was the highlight of our trip to Morocco. Our guide Hassan and the driver were amazing! Don't hesitate to book with these guys! We were a group of friends and had a blast! The trip was even entertaining! Don't let anyone tell you otherwise. A day trip is well worth it!
Andy & Vicki
1 Day of Amazing Sights
Our tour lasted 1 day, going from Fez to Chafchouan, we had a very welcoming and friendly guide, Said. We give you 5 stars for your service !!! He went out of his way to make sure we were always comfortable, saw all the amazing places we had to see, and got the perfect photos (even made numerous phone calls for us to try and locate our luggage lost by the airline … and offered to take us away Shopping)! All of our pickups were on time and once they were dropped off we made sure we had everything we needed. Great way to start our vacation!
Hallfam05
1 Day trip Chefchaouen blue city from Fez
Chefchaoun is a beautiful city to visit. It is a place where you cannot leave your camera because there are so many beautiful landscapes. The people are genuine and very friendly, so there is no pressure to buy anything. It is worth the detour. Another side of Morocco. Our driver, Mohammed, was fabulous and went out of his way as a tour guide.
Get to know Merzouga Activities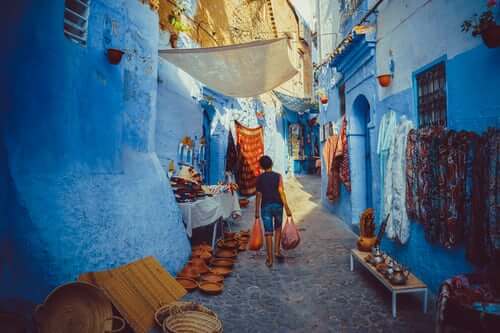 Day trip from Fes to Chefchaouen
Chefchaouen is famous for its "blue" color in town. A full day trip from Fes to Chefchaouen is…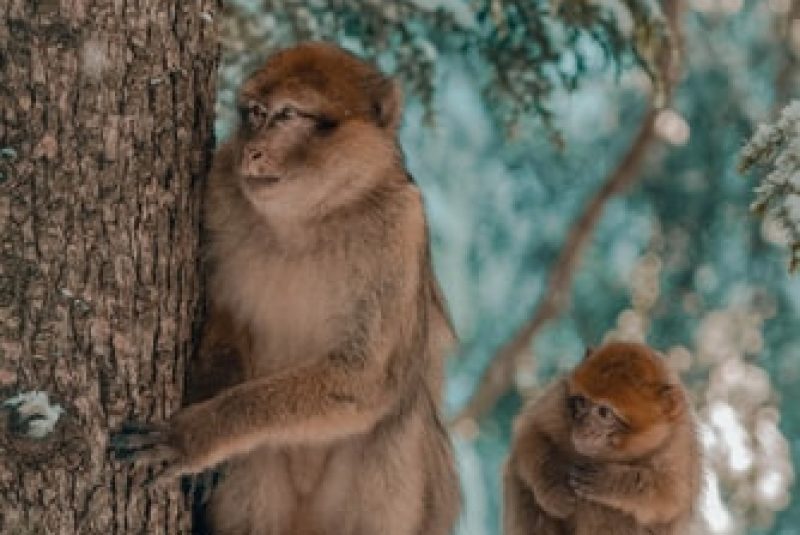 Day Trip From Fes To Cedar Forest
In this private day trip to the Atlas Mountains and Cedar forest from Fes, you will enjoy the beauty…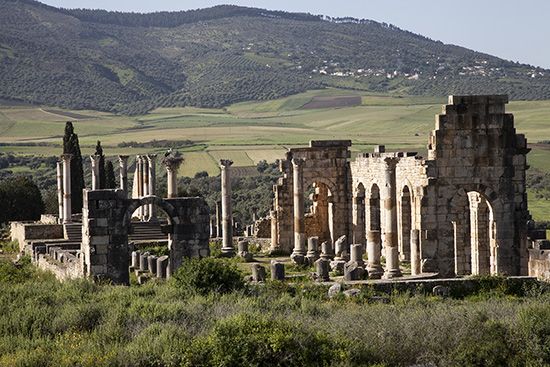 day trip from Fes to Volubilis
Visit Meknes and Volubilis on a private day trip from Fes that takes you on a journey through…