2 Nights camel trekking in Merzouga desert
2 Nights camel trekking in Merzouga desert
2 nights Camel trekking in Merzouga desert is an experience that will take you to visit nomad family in the Erg- Chebbi dunes & spend two nights in the desert Sahara, Our Camel Trek desert tours offer two camp options the Luxury & simple desert camp, excellent cuisine and sleeping in the desert beneath a stunning canopy of stars in our traditional nomadic bivouac.
JornVennekens wrote a review Aug 2020
I and my girlfriend went for a two-day trip with Marrakech Tour Company at the end of October. It was the 'Four Majestic Kasbahs and Two Oases' tour. Our driver was Hassan, who immediately turned out to be a great guide. Friendly, talkative about the region -and- caring about our wellbeing. From the first until the last moment, we felt safe and taken care of with him. The car, a Toyota Hilux 4×4, was incredibly comfortable and clean.
Our tour went from ait Benhaddou and Telouet day trip from Marrakech, up to a lodge in Skoura on the first day. The next day, we visited the Skoura oasis, Ouarzazate, and the Atlas Movies Studio. On a personal note: I am a movie fan, but wouldn't recommend visiting the studios as they were a bit disappointing. In general, the tour was a very quick and well-planned visit to the biggest highlights of the region, although Dessert Majesty went beyond the "tourist basics" by visiting slightly lesser-known places such as the Kasbah Amridil and. Ali also made sure to break up long drives by letting us walk a short distance and thus stretch our legs every now and then, picking us up with the car further on.
I should add that the first day of the tour was also my birthday. Even though Hassan only learned about it that morning, he secretly arranged a birthday cake and a band of musicians for a small party at the lodge that night. It was a great birthday!
The only downside I would want to mention is that some of the restaurants we visited weren't great. Specifically, the first on our way into the mountains and the last on our way back to Marrakech. But it was only a minor detail that doesn't weigh up to all the other great aspects. Hence our full five-star review – when we visit Morocco again, we'll definitely plan a new tour with Marrakech Tour Company
Tania A wrote a review (Mar 2020)
A perfect experience from start to finish. We made the desert of Merzouga; The trip is 3 days and 2 nights by 4×4 car to get there, but thanks to Hassan (our guide) the trip was more enjoyable, he was attentive to all our requests and even anticipated our needs. The truth is that the walk, the night in the desert, and what you see until you get there are worth it if you have a few days to have a first contact with the desert. Thanks to Said who organized everything with great patience from the beginning since we were 3 people and at all times he was watching us before, during and after the excursion, although he could not come with us. Thank you for this experience that we will always remember!
Lidia wrote a review (Feb. 2020)
It has been a journey that has certainly exceeded all of our expectations. Guided by Hassan, with his fun conversations, he discovered a magical Morocco, from Marrakech to Fez, and passing through the desert, we have been learning a little more about its culture, religion, customs, …
Between crazy and funny anecdotes lived together with Moha, we have lived 3 unforgettable days.
Without a doubt, we will repeat to discover new corners and take our little ones to the great desert adventure so that they can make sandboards with us and that Hassan explains to them at night that so magical sky that can only be seen between the dunes.
Hassan !! Now you can prepare to put up with our 5 children.
Celia H wrote a review (Feb. 2020)
An incredible experience, all super nice and attentive. Even the 6-hour trip was enjoyable with the great songs that our super guide Hassan gave us. The dromedary ride was also an incredible experience watching the sunset and sunrise. And the tents were better equipped than many hotels I've been to. It was beautiful to contemplate all the stars since there was no light practically all were visible. A 100% recommendable experience, everyone made us feel at home.
Iosune wrote a review (Feb. 2020)
We have just arrived in Morocco. Some friends recommended the agency to us and especially Hassan, and although we only contacted Marrakech Tour Company to spend the night in the Erg Chebbi desert and finally we were unable to meet Hassan as a guide, it was quite a success to contact them. The impeccable organization and Said and his companions some ten guides: friendly, attentive to any need, and creating a good atmosphere at all times. I read very good comments about the agency and I certainly confirm them. Thank you for your good work.
Enjoy 2 Nights camel trekking in Merzouga desert
What's the best time to travel to Morocco?
actually, Morocco is perfect for travel all year. the best time to visit the Sahara desert is The spring season that runs from March to May it is the best time to visit the desert of Morocco so that this period is characterized by moderate and beautiful weather, and Morocco knows calm rains and warm weather and is comfortable for tourism and enjoy its beauty, in this period you can visit all the cities of Morocco from the north To the south, especially in the month of May, which gives you the freedom to choose the region you want to spend the holiday. in the summer the weather is very hot in the Desert of Morocco, so you will want warm weather here on the Atlantic coast.
What Gifts and Memories can you return from morocco?
As soon as you start walking in Morocco, you will think about which souvenir to buy for yourself or for the people you love. The worry, believe it, you will be spoiled for choice. Here are some tips to help you.
Handcrafted terracotta pottery
Wherever you go in the country, there will be shops selling handcrafted pottery items. Moroccans still use it today: they prepare their food in tagines, on terracotta braziers, and think that a real Moroccan couscous can only be served in a clay dish. You will find ashtrays, tagines-salad bowls-salt shakers, etc. There will be all sizes but the smallest are the most practical and often more affordable, The best pottery in the country comes from the city of Safi.
Clothes, hairstyles, and slippers.
Moroccan clothes are original and distinguished, Sellers usually wear them, You will be offered djellabas-Trousers-tunics of different cuts and fabrics, embroidered or without patterns. You'll notice that the style differs from region to region. The gandouras would be a better option: there are for men and women, take the color that speaks to you, it is elegant, comfortable, and light. Don't forget to take the slippers that go with it, you can always use them as slippers at home. Typical Moroccan slippers are made entirely of leather, so avoid those with plastic soles.
what is the currency of Morocco?
The official currency in circulation, which is used in the Kingdom of Morocco, is the currency of the Moroccan dirham, and it can be abbreviated as (MAD), and it is also the currency that is circulated in the Western Sahara region, and one dirham is made of one hundred divisions of the denomination of sub-denomination of sub The responsibility for the issuance and circulation of the currency in Morocco with its different classes and varieties (paper and metal) by the Moroccan Central Bank, and given the Moroccan currency price against the dollar, the US dollar is equivalent to the value of 9.6560 of the dirham for one dirham, according to the exchange rate for the dirham Two thousand and nineteen.
are the lunches included in Our private Tour?
the lunches don't include in all our tours, There will be plenty of cafes on the way to the Sahara desert where to stop for lunch. Please feel free to choose on your own, or follow your driver's recommendation if you wish.
Is it safe to travel to Morocco?
yes, Morocco is one of the safest countries in the world, you won't afraid about anything Morocco will make you happy.
what kind of clothes are in Morocco?
Moroccan traditional dress is the group of traditional and popular garments that Moroccans have preserved and still preserved for centuries, as it is evident that they cling to various traditional garments, especially in weddings and religious occasions, whether old or young, male or female. There is no doubt that the traditional costume is an integral part of the heritage, and heritage is one of the essential elements for the construction of civilization, it is necessary for the development of civilization, as the traditional costume is a tool for defining nations and a symbol for their distinctiveness and uniqueness and is the best witness to the degree of their awareness and the diversity of successive civilizations.
Can I customize my trip?
yes, you can do it, Contact us and tell us where will you start and end, Our team will help you with your request.
What are popular dishes in Morocco?
The Kingdom of Morocco, like other countries in the region, is characterized by many of its popular dishes or those that were the product of pollination of some civilizations whose name has long been associated with the Kingdom's name. In this report, we will know the most prominent of these dishes that Moroccans excelled in cooking.
Couscous … the food that is not missing from the table
Morocco is famous for its barbarian couscous food, which dates back to the time of BC. Couscous is divided into two types in the kingdom: couscous with vegetables or "seven vegetables" as Moroccans like to call it, while the second type is couscous "with raisins" or "with enough" depending on the region, and is considered Couscous is the main dish on Friday, and you can only find it on the lunch table.
"Tangia" .. Marrakech food
No one can visit the city of "Marrakech" unless it is eaten from the "Tangia" dish of the famous Jamaâ El Fna Square. This dish, which the city of "Red City" is famous for, consists of veal, ghee, olive oil, and free saffron filaments, in addition to spices. Moroccan and water.
Moroccan tajin
It is the most famous traditional Moroccan dish besides couscous, which comes from the Arab Maghreb and especially Morocco, and this dish is also very common in Algeria and Tunisia, but according to many studies it is of Berber origin.
Infos 2 Nights camel trekking in Merzouga
Duration 2 nights
 Departure 1 or 2 hours before sunset depends on the season.
Check  anytime during the day
Starting  and Ending: Merzouga
2 Nights camel trekking in Merzouga desert Itinerary
This 2 Nights camel trekking in Merzouga desert Morocco start in the evening around 5/6 PM, we organize our camel ride for the overnight in the desert from a hotel near the sand dunes of Erg-Chebbi, The camels will be packed with foods and everything else which we will need for this tour of Camel ride in Merzouga 2 nights camel trekking in Merzouga desert. The camel trek will start right into the desert at 1h:30min, We will spend the night in the Sahara desert, this is a great opportunity to take lovely pictures of the sunset and sunrise on the way to the camp, when we arrive at the camp we walk to the high dunes to see the sunset, It will be a magical night when the sky is clear of cover and stars sparkle and shine with intensity. During the first night, there will be a wonderful dinner and will spend the night in nomad tents "The next day in the morning after the breakfast in the camp we will ride the camels to visit nomad peoples and lunch in the desert you will see how to make a Berber Pizza, and you will have it in the lunch, after relax and lunch with the nomad peoples we will ride the camels backing to the camp, when we reach the camp, we leave the camels, and we will take the sand broads, and we walk to the high dunes, we will visit an oasis into the dunes & we walk back to the camp after the sunset, the next day in the morning we will ride the camel backing to Merzouga after the sunrise, you'll have the breakfast and shower In the hotel in Merzouga.
the end of the 2 Nights camel trekking in Merzouga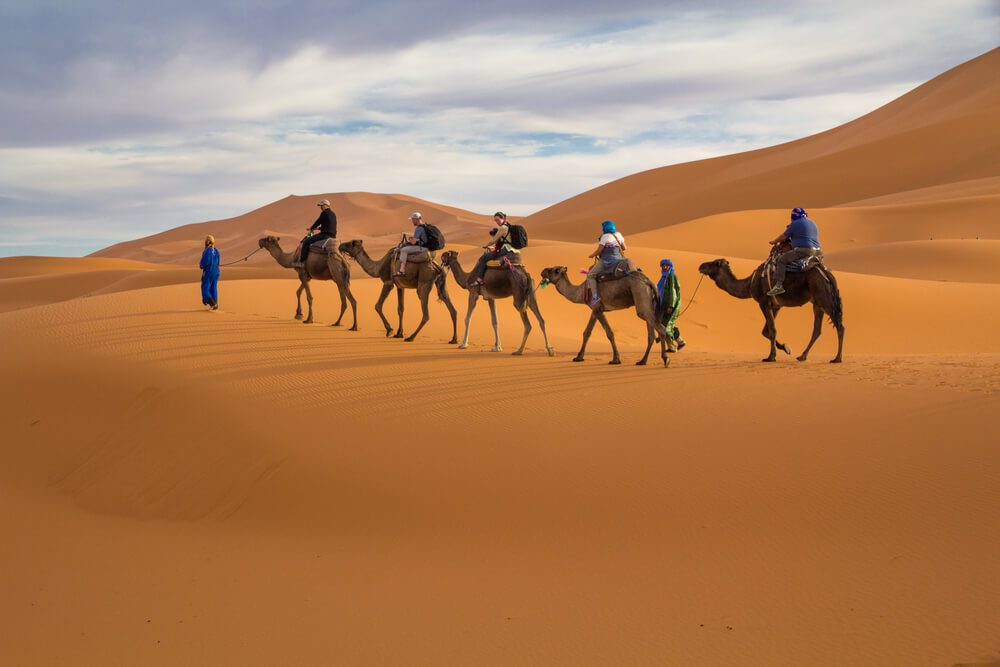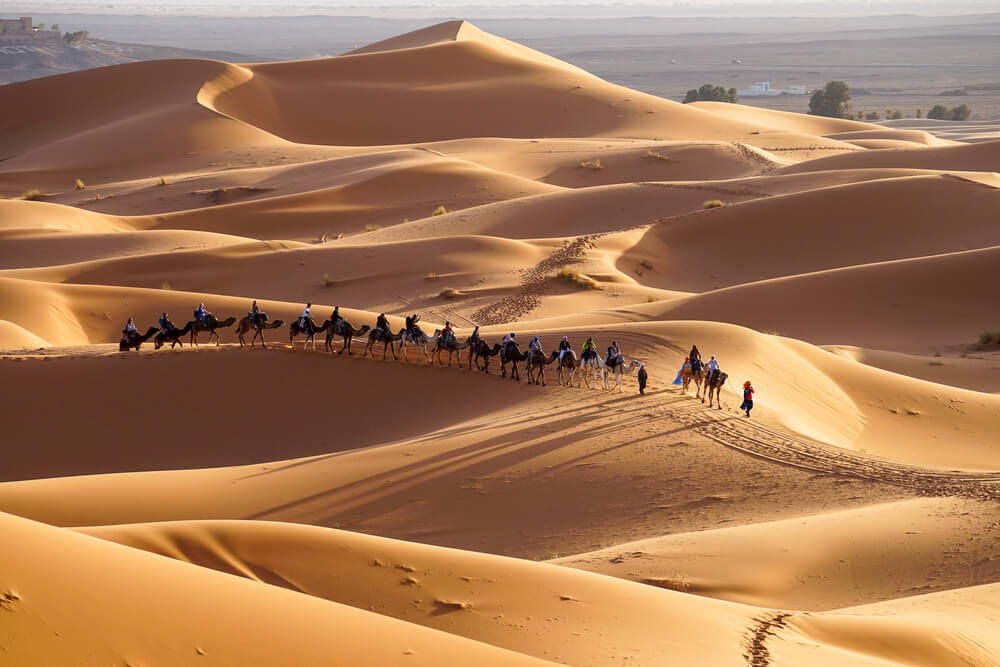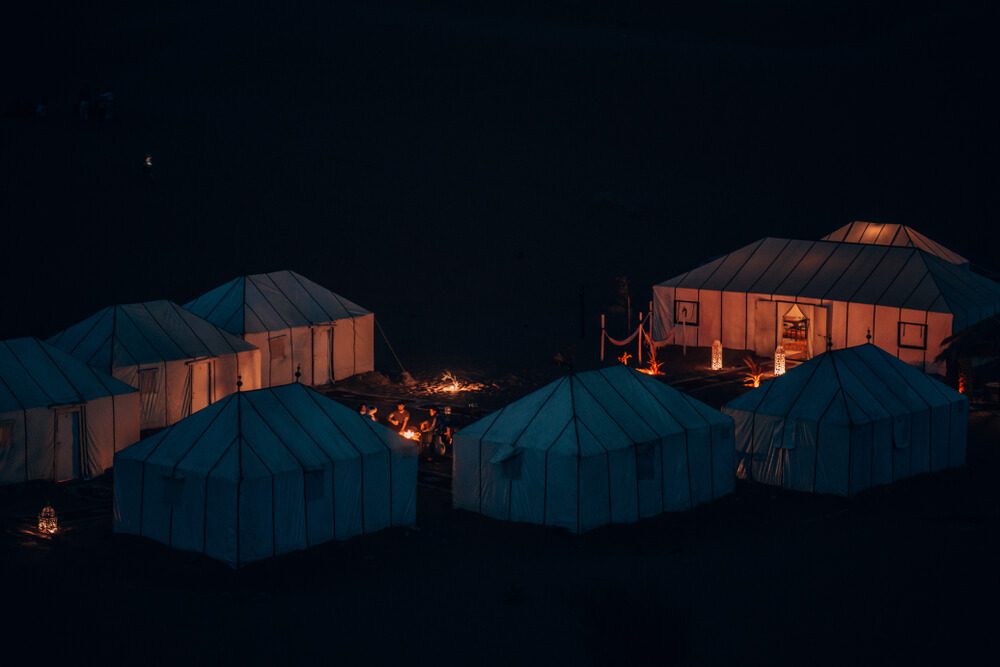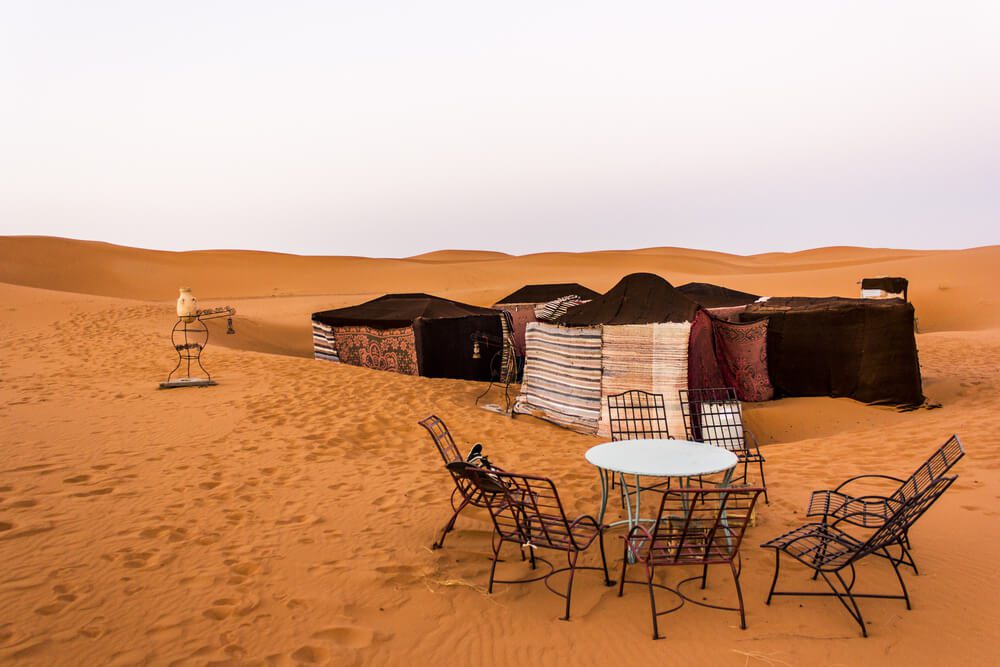 2 Nights camel trekking price per person:
To spend one night or more in desert Merzouga, we have two options for your stay and all our camps are equipped well, check the price and contact us to send you more pictures for each camp tents.

70 Euro Per person _ Standard camp ( Private tents with shared toilet, no shower)
180 Euro Per person _ Luxury Camp (Private tents with private bathroom /shower)
2 Nights camel trekking in Merzouga desert Highlights
+ Enjoy camel trek in Merzouga desert
+ Berber dinner at Merzouga desert camp
+ Enjoy the sunset in the desert
+ Enjoy Berber music at the campfire
+ Possible desert activities – sandboarding
How to get to Merzouga by Bus:
From Marrakech, there is a daily Supratour bus at 8:00 morning to Merzouga straight, arrive around 21:00 pm.
From Fes, the daily Supratour bus departs at 21:00 pm to Merzouga, arrive around 6:00 morning
( this option you will have a chance to do other activities, like excursion 4×4 around Erg Chebbi, Quads…)
If you are coming by rental car, we will send you localisation GPS via your Whatsapp.
If you are coming by bus, just let us we will come to the bus station in Hassilabied to meet you.
NOTE: If this Camel ride in Merzouga Two nights in the Desert does not match what you're looking for, don't hesitate to Contact us and we will prepare the trip to your needs and requirements.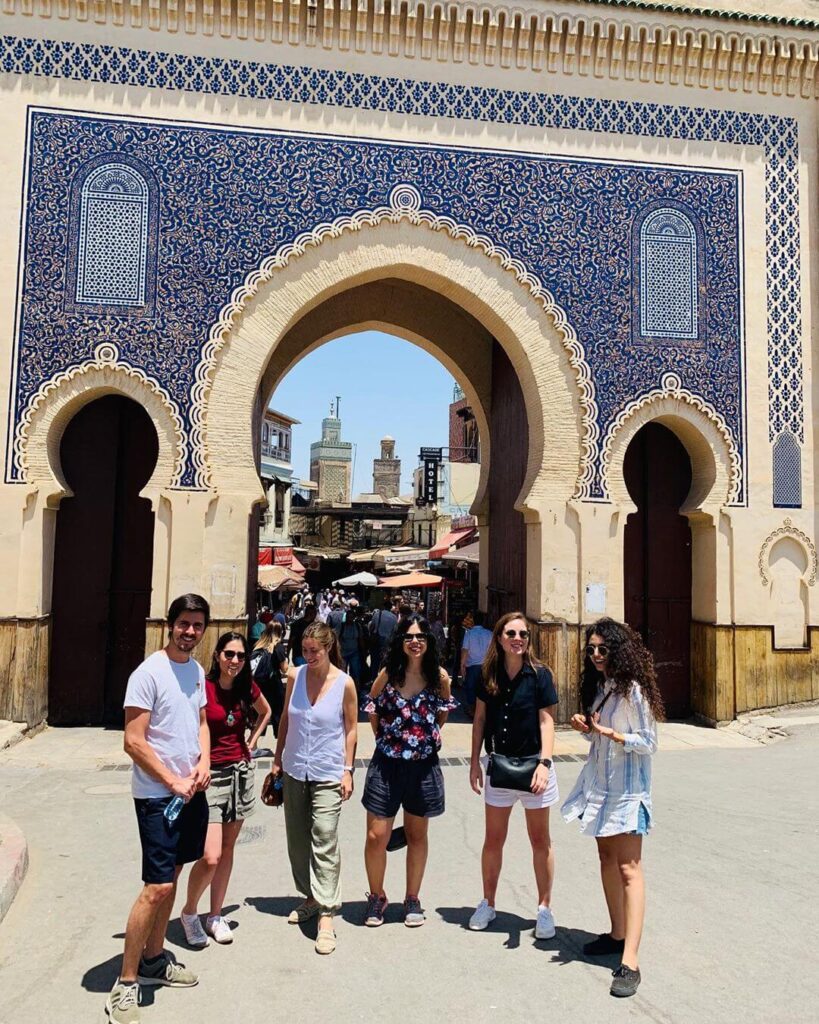 Ana E
It has been a journey that has certainly exceeded all of our expectations. Guided by Hassan, with his fun conversations, he discovered a magical Morocco, from Marrakech to Ouarzazate and Ait ben Haddou Kasbah, and passing through the Atlas mountains, we have been learning a little more about its culture, religion, customs, … Between crazy and funny anecdotes lived together with Hassan, we have lived 2 unforgettable days. Without a doubt, we will repeat to discover new corners and take our little ones to the great desert adventure so that they can make sandboards with us and that Hassan explains to them at night that so magical sky that can only be seen between the dunes. Hassan !! Now you can prepare to put up with our 5 children.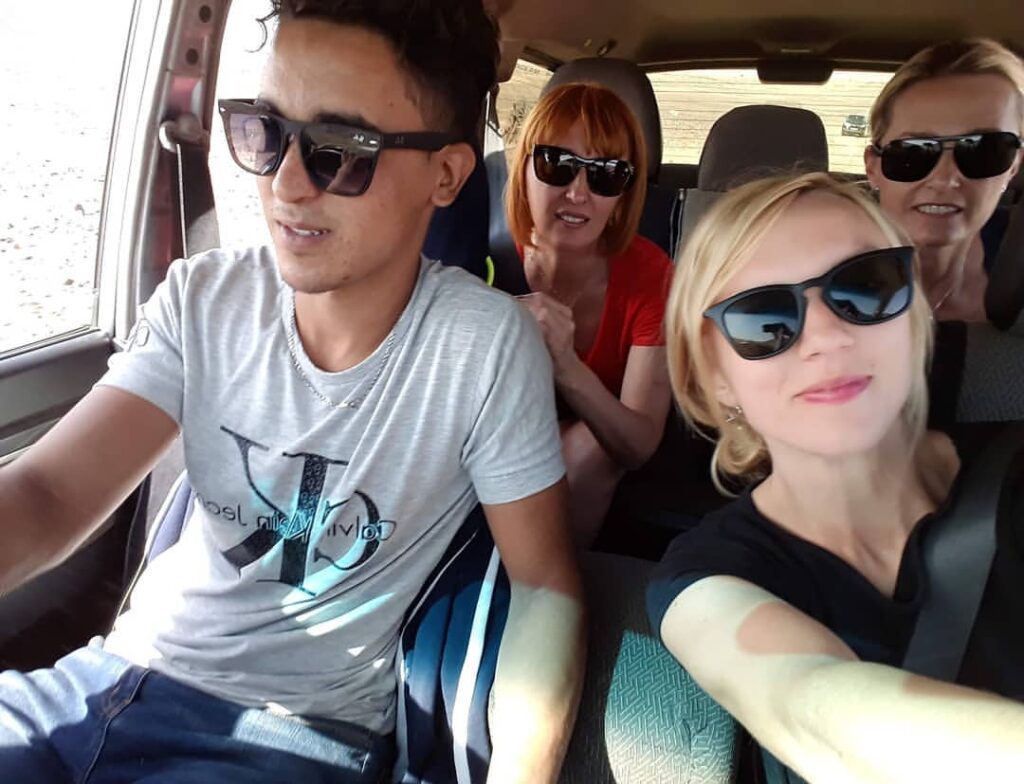 Lauropin
My boy and I were a little over a week ago making a route through southern Morocco. We have Hassan, who helped us a lot to organize it and be able to visit the best in the days we had and the area we wanted to see, without a doubt, a discovery. We had never been to this incredible country, and it left us totally impressed, even with certain cultural differences, we are very similar. Said accompanied us everywhere, telling us stories of the places and giving us time to enjoy each place, he behaved like a true traveling companion. Then we met Hassan in the desert, who hosted our stay there, concerned that we were comfortable at all times. He gave us a walk that was the icing on the cake in our desert experience, so much so that we can't wait to go back and dedicate every day to the dunes!!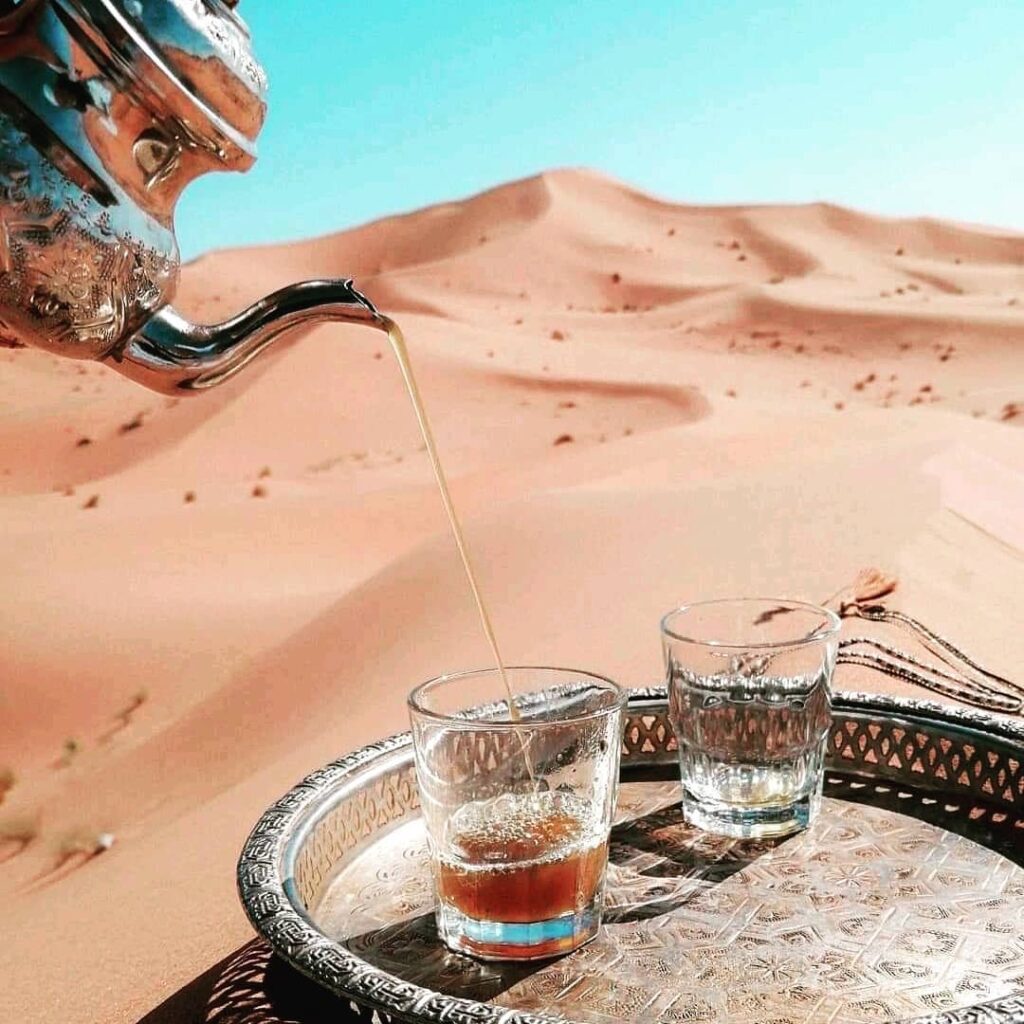 Nene E
Little to say – a spectacular trip with Hassan, where we got to meet many of his companions and enjoy the nights together at Erg Chebbi and Ouarzazate. We extended the trip to one more day because we were having a great time in the desert. Hassan and Said, including Ali and the Ninos, made our trip to Morocco an incredible experience. Of course, I will recommend to all my friends and family who want to visit Morocco to hire the 4 or 5 days private tour from Marrakech. There is no better way to get to know the country and its culture than with these friendly and professional people. SPECTACULAR AND AWESOME traveling in February through Morocco – sunny and very good temperatures – we will always carry these great people in our memory! and we wish for Marrakech Tour Company to keep these Testimonials Morocco desert tours.