4 days Tour from Marrakech to Fes and Merzouga Desert Overview
For every traveler who likes to visit Morocco and have a short holiday, the 4 days tour from Marrakech to Fes is the best choice with a complete 4 days tour itinerary to explore Morocco and see the imperial cities of Marrakech and Fes. The 4 days from Marrakech to Fes desert tour will allow you to enjoy the magnificent Sahara desert and the Atlas Mountains. Experience a camel ride in the Erg Chebbi dunes with magical views of the sunrise and sunset.
This perfect desert tour of 4 days/3 nights from Marrakesh to Fes via Merzouga village will take you on an exciting trip through southern Morocco with the high Atlas Mountains and the middle one, also the Berber villages, gorges, Kasbahs, palm groves, valleys, and the Sahara desert (Erg Chebbi dunes) with its oasis.
At Marrakech Tour Company, we offer Standard, Luxury, and private tours from Marrakech to Fes for 4 Days or more. We organize a shared tour from Marrakech to Fes via Merzouga Sahara Desert in small group tours. Please note that you can only share the transportation.
4 Days Tour from Marrakech to Fes Info
+ Duration: 4 Days / 3 Nights
+ Departure: 8:00 am
+ Starting Location: your accommodation in Marrakech.
+ Ending Location: your accommodation in Fes
4 Days Tour from Marrakech to Fes Highlights
+ Stunning views of the landscapes of the Atlas Mountains.
+ Visit the UNESCO World Heritage Site called Kasbah Ait Ben Haddou.
+ Take a look at Ouarzazate Film Studio & Taourirt Kasbah.
+ Explore the beautiful gorges of Dades and Todra.
+ Scenic aspects of the dunes of Erg Chebbi.
+ Camel ride in the Erg Chebbi Sahara desert.
+ See Sunset in the sand dunes.
+ Overnight stay at a desert camp in Merzouga Desert ( Erg Chebbi ).
+ Rich dinner and music through the campfire (Berber drums).
+ Stop in Azrou's cedar forest and admire the Barbary monkeys.
+ Visit the second Switzerland of Ifrane city.
4 Days Tour from Marrakech to Fes Itinerary
Day 1: drive from Marrakech through the high Atlas Mountians to Boumalne Dades.
In the early morning of the first day of our 4 days tour from Marrakech to Fes, we will leave Marrakech crossing the lansdcapes of the high Atlas mountains and the Tizi N'Tichka pass (altitude 2260 meters) for arriving the Ait Benhaddou kasbah, a traditional buildings, built with clay and stones, it's a UNESCO World Heritage site. it has been used as a natural landscape for many film makers.
You will have a lunch in a berber local restaurant in Ait Benhaddou, after a delicious lunch we will drive to Dades valley through Ouarzazate, and stop near the Atlas studios to take some photos then head to the town center for a picturesque scene of the Taourirt Kasbah, a historic fortified palace. after the all that, we will continue our day to the palm grove of Skoura, and roses valley, with Dades valley where we will spend our first night of our 4 days tour.
Day 2: Boumalne Dades via Todra Gorges to the Sahara desert
This morning after breakfast in the hotel/riad, we will start our second day of 4 days from Marrakech to Fes Desert tour by driving towards Todra gorges stopping for a panoramic view of palm groves and Todra valley, along the way, you will have some stops for photos as well as enjoying the views. Arrive in the gorges of Todra to experience its amazing canyons landscapes while you walk in its warm and narrow valley. Later on, we will drive to Tinjdad city and have a rest for a delicious lunch then continue to Erfoud city which is known for its fossil factories.
After that, we will continue our 4 days tour from Marrakech to Fes to the dunes of Erg Chebbi desert, impressive high dunes, get arriving to the meeting point of camel riding, then cross the orange dunes with a camel guide to admire the magical sunset and to take some beautiful photos, later on, you will head to the desert camp for an overnight stay in a traditional nomad luxury/standard tent, depending on your option for the type of the camp, and enjoy a delicious dinner and dance around the fire with Berber music and millions of stars above you in the sky.
Day 3: Tour Around Merzouga desert with nomad families and Gnaoua music
After a leisurely breakfast, We will drive to the village of the black people called Khamlia. they were from southern Africa ( Sudan ). and were originally brought to the north as slaves. You will meet some families of them and you enjoy their music called Gnaoua and drink a cup of mint tea. Our next stop of this third day of our 4 Days desert tour from Marrakech to Fes will be at Mfis Oasis, It's a small Berber village, close to the copper and coal mines where most people in Merzouga work for a living, after that, the second stop will be in Merdane village, where you can meet Berber families before driving back to Merzouga desert to have lunch, then to your hotel/riad for a night, dinner and breakfast included.
Day 4: Merzouga Sahara desert through the Ziz Valley to Fes
This is the last day of our 4 days from Marrakech to Fes desert tour. You will wake up early morning to enjoy the beautiful sunrise. after breakfast, we will leave the desert to Erfoud where we visit one of the workshops on fossils marble. Later on, we drive along the Ziz valley with its landscapes, we will have s stop for a panoramic view of the Ziz valley full of thousands of palm trees. Continue the way to the capital of apples which is called Midelt, free time for lunch in the city or other place out of the city.
After that we will drive to the cedar forest of Azrou where you can see the Barbary Macaques live, you will have the opportunity to take some beautiful pictures, then continue our way to the second Switzerland of Morocco, Ifrane city which is famous for its low temperature and was ranked as the eight cleanest cities in the world, take walk around its garden and visit the Atlas Lion statue. After all that, we will drive to Fes, we drop you off at your accommodation in Fes or at the airport, this is the end of the 4 Days tour from Marrakech to Fes and Merzouga desert.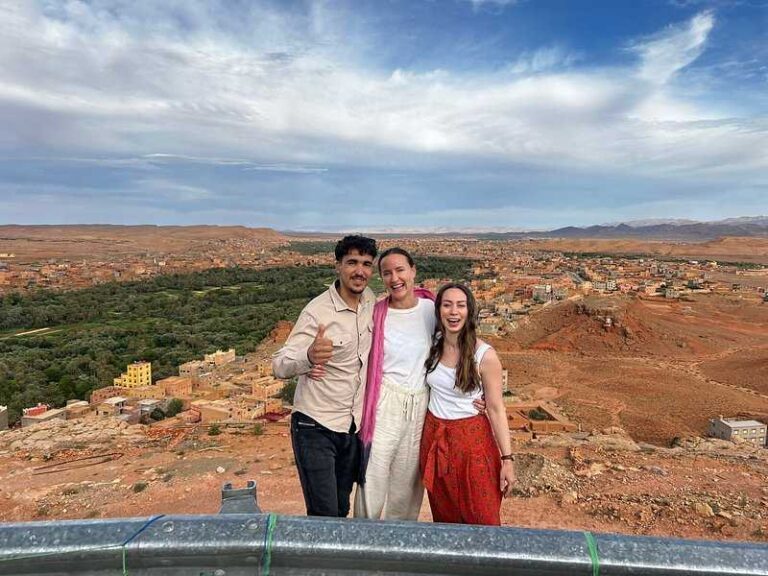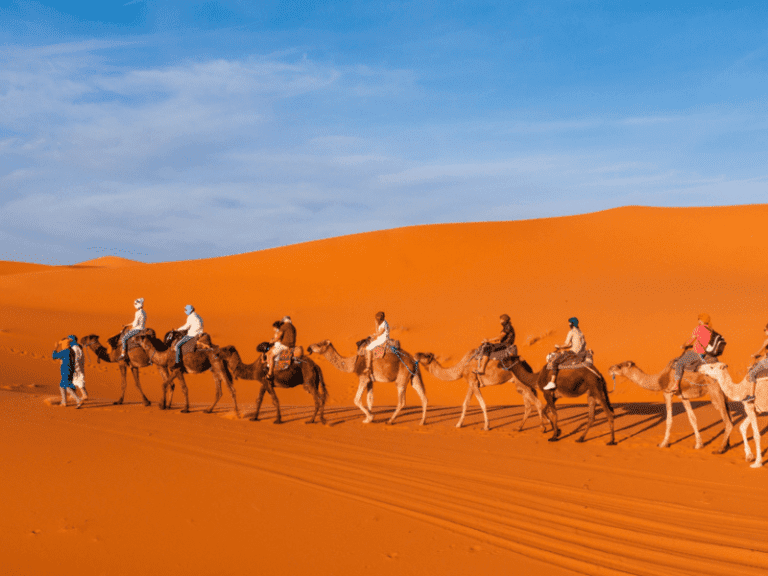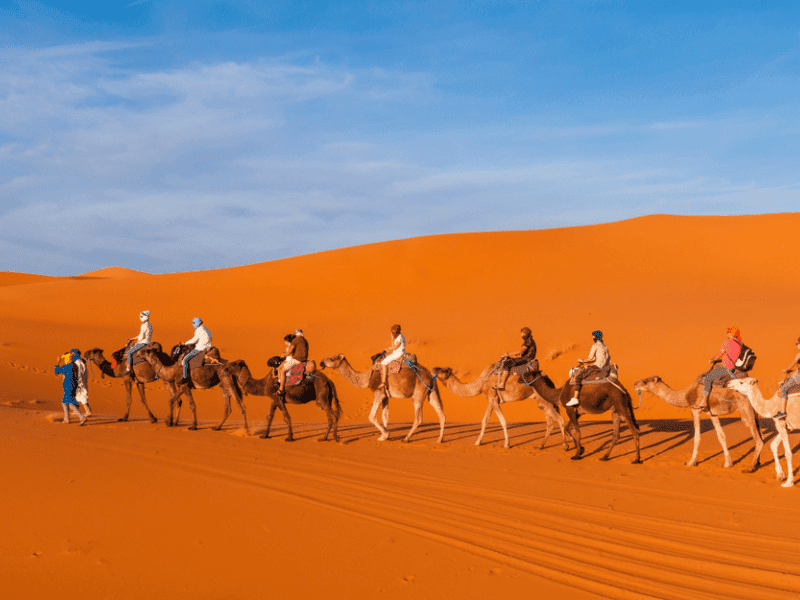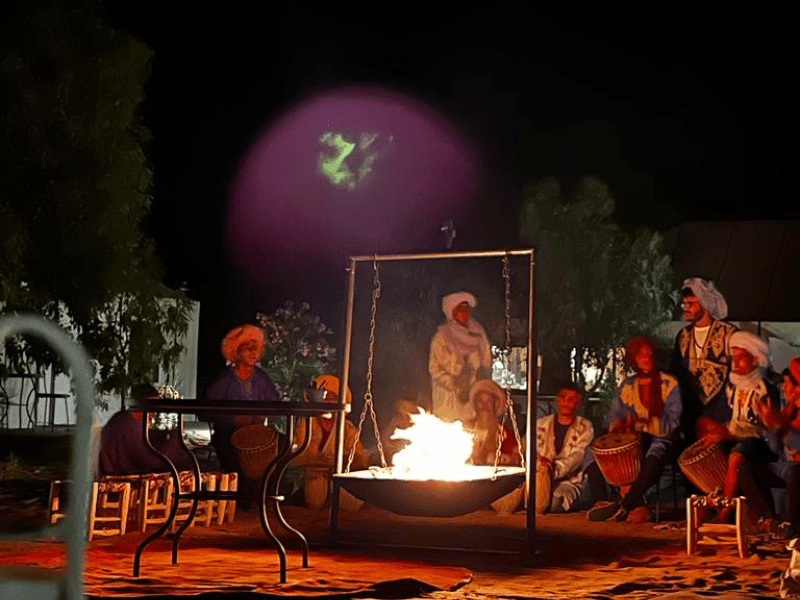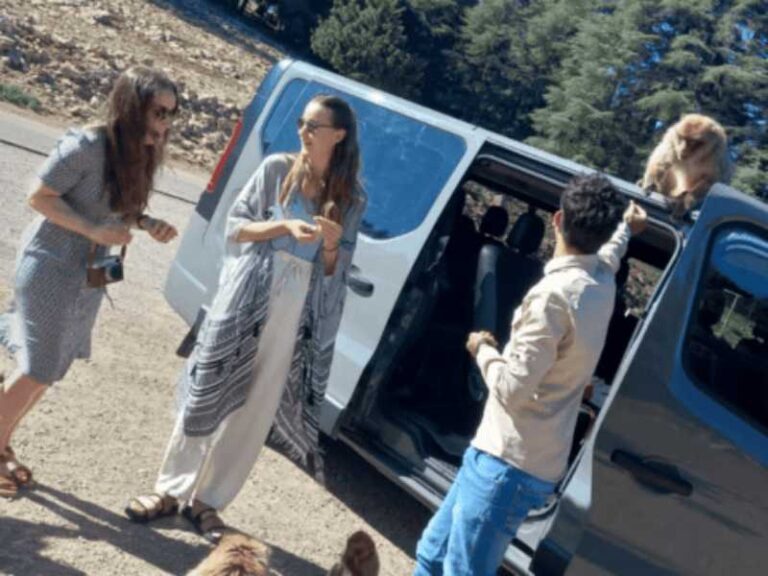 4 Days tour from Marrakech to Fes includes
4 Days tour from Marrakech to Fes excludes
NOTE:
If these 4 days' Desert Tour from Marrakech to Fes and Merzouga does not match what you're looking for, don't hesitate to contact us and we will prepare the trip for your needs and requirements.
4 Days tour from Marrakech to Fes Desert itinerary's reviews
Dannielle H Wrote a review ( Aug 2022 )
Best 4 Days from Marrakech to Fes Desert Tour
Many thanks to our wonderful guide and driver, Hassan, for our 4 days tour from Marrakech to Fes via the Sahara desert, we had some breathtaking and interesting places. Hassan has always been respectful and kind, doing everything to make us comfortable. The time and effort that our guide, Hassan, devoted to becoming a competent and competent pilot across northern Africa were highlighted, as we learned a lot about Moroccan history and Berber culture.
We traveled in a clean new 4WD, with wide stops along the way for the opportunity to stretch your legs, have a drink, or see a new quiet corner of the country.
We highly recommend Marrakech Tour Company.
Juan wrote a review ( Jan 2022 )

Tour from Marrakech to Fes in 4 days desert Itinerary

We had Hassan as our guide and driver, respectively, on our 4 days trip from Marrakech to Fes. He has always been friendly, professional, attentive, helpful, patient, friendly, and fun to chat with, always telling stories, jokes, and basic information about various places.
The culmination of the whole tour was the night in the Sahara desert something we have never experienced good food, and local music, in the complex Marrakech Tour Company, they did a quality service, and we gladly back again in the future. and we highly recommend them to our friends and families.
Charmin L Wrote a review ( Sept 2022 )
Perfect 4 Days tour from Marrakech to Fes Itinerary
First of all, we would like to congratulate Hassan – our companion, friend, driver, photographer, prankster, etc. who showed us what Morocco is. Not only did he takes his time to explain the attractions and highlights of Marrakech to Fes in 4 days desert tour, but he made us comfortable and safe.
From start to finish, there was open communication between us and the agency. It was a pleasure to work with Marrakech Tour Company.
We will share our experiences with our Families and friends in the United States and report all to Marrakech Tour Company.
Thank you, Hassan, for everything!
Places to see in your 4 Days tour from Marrakech to Fes Itinerary
Morocco is a fascinating mix of Eastern and Western cultures, as evidenced by its architecture, food, and landscapes. One of its most beautiful jewels is the High Atlas – ancient, rustic and rich in folklore – a must for your 4 days tour to Morocco.
The High Atlas is the highest mountain in North Africa. They cross Morocco for about 1000 km and separate the gentle Atlantic and Mediterranean coasts from the rigid Sahara to the south.
The dozens of kasbahs that populate southern Morocco have an authentic capital 30 kilometers from Ouarzazate. At the gates of the desert, the impressive ksar of Ait Ben Haddou raises his adobe houses by the skirts of a cliff creating in the visitor a feeling of living a journey in time.
A ksar is a fortified village of Berber origin and consists of numerous kasbahs inside, the typical North African construction made with traditional materials such as adobe or wood. Ait Ben Haddou is the best-known ksar in Morocco and probably one of the most impressive and fascinating monuments in the country and the one that you can't miss in your 4 days tour from Marrakech to Fes.
Ouarzazate is an obligatory stop for all those who make the Oasis route and lately it is booming at a cinematic level, as its region offers a natural landscape of great beauty for filming. It is therefore a great attraction for major film producers and directors, including those in Hollywood. This city has several film studios, where many feature films have been shot, some of them Oscar winners: Lawrence of Arabia, Kundun, Gladiator, Asterix, Obelix, Tea in the Sahara, Babel… The city has, in total, three film studios and a museum.
Ouarzazate is born from an outpost created by the Foreign Legion in 1928, and still today it is a city of an important garrison. In fact, approximately 56,000 people live and work here, although more than a destination in itself, it is rather a point of departure and returns for trips from the south. 4 Days Desert tour from Marrakech to Fes and Merzouga is also a regular option for tourists from the red city.
Don't miss to explore Dades Valley in 4 days Marrakech to Fes desert tours, It is located in a deep gorge of Morocco located in the High Atlas, between the towns of Boumalne Dades and Msemrir. This part of Morocco is famous for its landscapes and for the hospitality of its people, mostly Berber. (Berbers).
Noteworthy are the «Fingers of the Monkeys», a rocky landscape also known as «the brain of the Atlas», the kasbahs, and the picturesque views that make up the landscape of the High Atlas.
Located on the east side of Morocco's High Atlas Mountains, the Todra Gorges are recognized worldwide as one of the most spectacular rock canyons. These gorges are located only about twenty-five kilometers north of the city of Tinghir, the road leading to the gorges offers beautiful landscapes, such as Assoul or Ighri as well as a magical view of the majestic palm grove.
Its water is crystal clear, fresh, and clean. The cliffs of the gorge every year attract many climbers who come to enjoy their passion. Todra Gorge is a place that enjoys a great reputation among climbers, especially Europeans (Spanish and French mostly), although today it has become a huge school. Many tourists also come to refresh themselves and enjoy the beautiful landscapes of the area. try to book a tour from Marrakech to Fes in 4 days to visit this gorgeous place.
Merzouga ( Erg Chebbi Desert )
These are undoubtedly the most visited dunes in Morocco by far, and also the most beautiful. One of the biggest attractions of Morocco that has its well-earned fame.
The village of Merzouga is located about 550 km from Marrakech, 450 km from Fez, which is a journey of more than 7 hours in any case.
Located just before the dune line, the village of Merzouga is the least, what everyone comes to here is to see and feel Erg Chebbi. If crossing the dunes is a delight for the senses, when the sunset arrives, the feeling of fullness, tranquility and beauty is such, that its memory will fill you with emotion for years. ¡ Guaranteed!
Traditionally, Barbers used their unique ability to sail the desert to serve as key players in the North African trade network for the Middle East. It is difficult to find yourself across the faceless and sandy landscape of the Sahara Desert. That's why the Berbers of the Sahara are like sailors on the high seas, oriented towards the stars.
In addition, Berbers have many stories and songs describing how to find small water holes and a number of recognizable places in the desert.
It is curious, that no one gives it the importance it deserves the Ziz Valley when it is a really beautiful valley. The valley of the Ziz, is on the passage of many routes through Morocco that want to reach the desert of Merzouga, most travelers who pass, come from Fes or also, in the opposite direction, from Erfoud to Fes.
Undoubtedly, the valley of Ziz deserves a stop on the road, and on the same road you will find some place where you can stop the vehicle, and enjoy the splendor of the landscape.
To be honest, few travelers come to Azrou to visit the city, as it is its cedar forests that have made the area famous and the monkeys that inhabit it, these kinds of monkeys are called Barbary Macaques.
The most famous of these forests is the Grand Cedre Gouraud, the oldest cedar in the region. Unfortunately, he died a few years ago from a plague of processions. A few meters from Cedar Gouraud you will find souvenir stands where you can buy souvenirs from your tour to Fes.
Ifrane is a city in Morocco with a population of approximately 30,000 people, located in the Middle Atlas mountains, about 1,713 meters above sea level. It was founded by the French in 1929 and today is one of the cleanest cities in the world, according to a list made by MBC Times. Ifrane, also known as the 'small Switzerland', is characterized by its gabled roofs, and the streets and gardens are taken care of to the maximum detail. Both in summer and winter, this mountain town is an excellent starting point for numerous excursions to its surroundings, especially in the huge Mischliffen.
Our 4 Days tour from Marrakech to Fes will end in Fes which is famous for its ancient fortified city, which many compare to that of Jerusalem. It is the first of Morocco's imperial cities, as it dates from the eighth century. He is also a pioneer in the Muslim cult of this country and has one of the oldest universities in the world. All these firsts make Fez, as it is also called, a particularly attractive city with a vibrant and influential culture. In fact, it is particularly known for being the cultural and spiritual capital of Morocco, the center of art and science.
Fez is one of the most interesting and attractive destinations in the country, perhaps a little obscured by the big cities of the country, Casablanca, Marrakech, and Rabat. Although Fes has been able to adapt to modern life, it also preserves its traditions and one of the most authentic lifestyles of Morocco, something that is breathed in each of its streets.
4 Days tour from Marrakech to Fes Desert's FAQ
How long does it take from Marrakech to sahara desert?
Invariably known as one of the main gateways to Western Sahara desert, Merzouga is located just south of Erfoud, about 560 km (350 mi) from Marrakech. Taking the N9/N10 (again the shortest way), you should arrive in just under 9 hours.
How many days are recommended to do a tour from Marrakech?
4 days tour from Marrakech to Fes is recommended in Marrakech, We spent a total of two and a half, three nights. 3 or 4 days is the minimum time we consider to travel to Marrakech. If you have more days I recommend a tour to the Sahara desert, Essaouira, or the waterfalls of Ourika Valley.
How to get from Marrakech to the Sahara Desert?
To get to Merzouga by car from Marrakech we recommend taking the N-9 and then the N-10. It is the fastest route (9 hours) and passes by places of interest that you can visit and admire with your own eyes as the city of Ouarzazate, the Dades Gorge, and those of the Todra or the palm grove of Tafilalet.
How many days does it take to get to know Morocco?
The ideal number of days you need to see Morocco is at least 7 to 10 days tour. At a leisurely pace, a week in the desert and imperial cities of Morocco is enough time to see the highlights of the country.
Related tours: 4 Days tour from Marrakech to Fes and Merzouga Desert
Desert Tours from Marrakech offers you the opportunity to enjoy a unique stay in Morocco, with easy access to the main attractions and the Sahara Desert. for more Desert Tours from Marrakech Check the Itineraries below or read more.