5 Days in Morocco Tour from Tangier to Marrakech
5 Days in Morocco Tour from Tangier Overview:
5 days in Morocco Desert Tour from Tangier. During this 5 days itinerary on Morocco Tour from Tangier, you will enjoy Morocco like never before with us.
you will discover the most beautiful places in Morocco. The tour starts in Tangier. First of all, we will cross the Rif Mountains, stroll through the blue town of Chefchaouen, and even stroll through the Roman ruins of Volubilis.
The tour also includes Meknes Sightseeing. In addition to the visit to the Ifrane Morocco Switzerland and the cedar forest.
In addition, you can ride a camel and enjoy the magical sunset and sunrise in the Sahara desert of Merzouga.
Walk through the beautiful gorges of Todra and Dadès. Visit the historic kasbahs and cross the High Atlas Mountains and the Tizi-n-Tichka Pass. Finally, the tour ends in Marrakech.
5 Days in Morocco Tour from Tangier Info:
+ Duration: 5 Days & 2 nights
+ Departure: 08:00 am
+ Starting Location: Tangier
+ Ending Location: Marrakech
5 Days in Morocco Tour from Tangier's Highlights:
+ Explore the blue pearl of Chefchaouen.
+ Visit the roman ruins of Volubilis, Meknes, and Fes.
+ the second switzeland city of Ifrane.
+ Azrou cedar forest, Monkies wild.
+ Midalet capital of Apples.
+ Ziz Valley is full of palm trees.
+ drive through the valley of Ziz to Merzouga Sahara desert.
+ Todra Gorges, Dades Valley.
+ Discover Ait Benhaddou Kasbah.
+ Cross the high atlas mountains.
+ Tizi N'tichka pass to Marrakech.
Itinerary 5 Days in Morocco Tour from Tangier
Day 1: drive from Tangier to Chefchaouen
It will be a 5 Days in Morocco tour from Tangier in the beautiful priority of the country, which will start with the beautiful city of Tangier through the virgin Rif mountains, which offer you an impressive combination of blue sea and mountains until you reach the city of Tetouan a jewel of a city with a strong Spanish influence and a beautiful medina.
In the afternoon we will arrive at the beautiful blue town of Chefchaouen, where you will have the opportunity to stroll through this unique city, with its medina decorated with a mix of white and blue buildings, creative arts shops, and a charming square of Uta el-Hammam.  we will drop you at the hotel where you will spend the night.
Day 2: Chefchaouen via Volubilis and Meknes to Fes
After breakfast, we will continue our 5 Days in Morocco itinerary from Tangier to visit the ancient Roman ruins of Volubilis, which are well preserved since it is recognized as a World Heritage Site by UNESCO, and has many beautiful mosaics scattered here and there, as well as beautiful ancient pillars and arches.
After going through the ruins, we drive for 30 km to visit one of the imperial cities, Meknes, the Ismaili capital, where we visit Bab Al-Mansour, the basin of Sahrij Souani, the royal stables, the attic, and the mausoleum of Moulay Ismail. Then we head to Fes. Overnight in a riad/hotel.
Day 3: Fes via cedar forest to Merzouga desert Sahara
After finishing our breakfast, we will drive through Imouzzer to reach Ifrane. The city is famous for its low temperatures, snow, and even houses of alpine-style architecture. No wonder it's called the Switzerland of Morocco. Then we continue to the cedar forest, where the macaques of Barberia live ( Monkies wild ). Do not hesitate to feed them by walking in the woods.
Later we will continue to Midelt, where we will have free time for lunch. Then we cross the pass of Tizi-n-Tilghmt, and along the valley of Ziz, with scenic stops.
In the afternoon we will arrive in Merzouga Desert Sahara. Where to ride camels and cross the desert of sand, with a stop on a high dune to enjoy the sunset.
Continue to the camp, which is a combination of traditional nomadic tents and luxury accommodation. Where you can enjoy the music of Berber drums while dancing around the campfire, under the vast open sky of the stars. dinner and overnight here.
Day 4: Merzouga Desert Sahara to Boumal Dades ( Dades Valley ).
We will continue our 5 Days Tour from Tangier Morocco itinerary to the Dades valley, and we will stop a little along the way.
First, we will go through Erfoud, if you are interested, we will visit one of the metal excavation museums there. Second, not far from Erfoud, we will stop at an old irrigation system to show you how they once irrigated the oasis. After that, we will head to Todgha Gorges, the great furrows of Morocco. Here, we will take a walk by the river that crosses the mountains.
In the late afternoon, we will cross the city of Dades, and cross the valley. After that, we will stop at the fingers of monkeys, and mountains in shape because of the wind and rain.
Then we'll head to the Tisdrin curves, where Cadillac, the American car, set a record and an announcement. Finally, we will take you to the property to spend the night in the gorges. This will be the end of the four days of our itinerary in Morocco 5 days tour from tangier.
Day 5: Dades Valley via Ait benHaddou Kasbah to Marrakech
After breakfast we continue to Kalaa Magouna, to visit the Rose Valley. A rose festival takes place every year in May, where the locals offer their rose products, perfumes, rose water, oil, and cosmetics. Then we cross the palm trees of Skoura Then we reach Ouarzazate. Where we visited the studios where famous films were shot, and also visit the Kasbah Taourirt.
Then we will continue our way to discover the famous Kasbah of Ait Benhaddou. A fortified village recognized as a UNESCO World Heritage Site. In addition, the Kasbah has appeared in many films such as Gladiator, Alexander, The Mummy… etc, and also in television series such as Game of Thrones. After this, we continue towards Marrakech passing through the pass of Tizi-N-Tichka, and the mountains of the High Atlas.
Stops will be made for lunch and to take photos in interesting places. Finally, we leave your accommodation at a Riad in Marrakech. End of the 5 Days tour in Morocco from Tangier.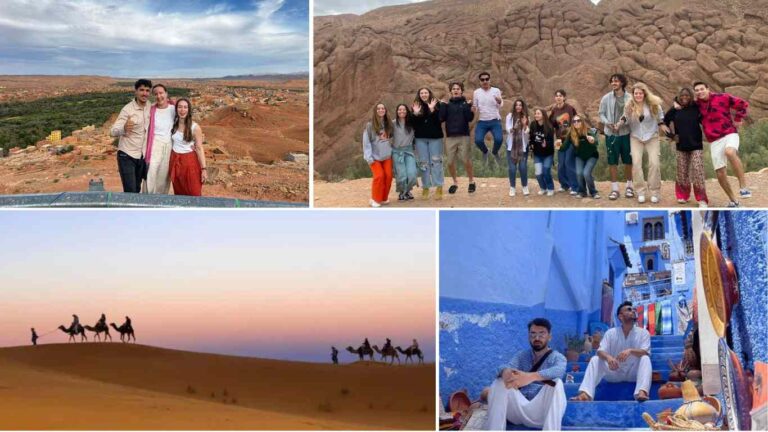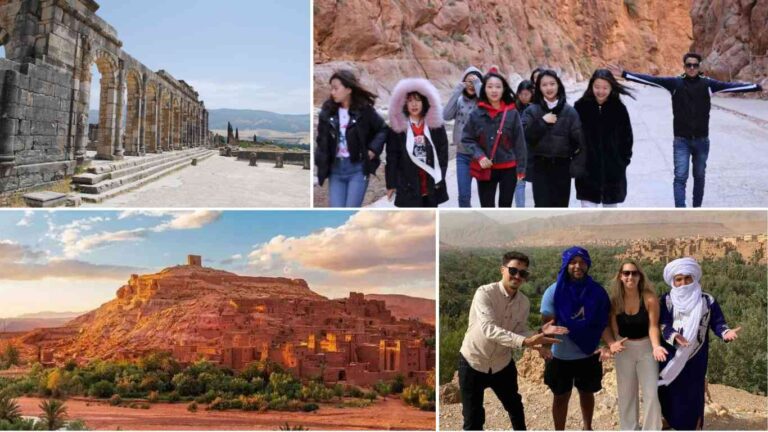 5 Days in Morocco Tour from Tangier Includes:
5 Days in Morocco from Tangier to Marrakech Excludes
NOTE:
If these 5 Days itinerary in Morocco tour from Tangier does not match what you're looking for, don't hesitate to contact us and we will prepare the trip for your needs and requirements.
Itinerary 5 Days Tour in Morocco from Tangier's Reviews:
Amazing 5 Days Tour in Morocco from Tangier Itinerary
Our driver Hassan helped us between places and throughout the country on a 5 Days tour in Morocco itinerary from Tangier to Marrakech, and Fez, Merzouga. Hassan's team offered a premium desert experience with camels and spent the night on the pitch under the stars. The stops along the road were well planned and in interesting places, with the possibility to buy souvenirs, but without pressure to do so. Many stops for good photographic occasions too. Hassan was also a very safe driver as well as making stops in pharmacies or banks if necessary. We will definitely come back with this group if we need help to move through Morocco and get out into the desert in the future. Thanks for a wonderful holiday trip! We recommend this company to our friends.
Awesome 5 Days Itinerary in Morocco tour from Tangier
before I started to book the 5 Days in Morocco tour from Tangier, I contacted a few travel companies to see what they had in mind. Said was quick, thorough, informative, and responsive. He had the idea of riads, as I asked him, and sometimes I changed them. For one of them, I would have liked to have followed his advice! You know all the places to stay and all the things to make the most of your trip. He organized a night for us in Fez (DON'T MISS FES, IT'S WONDERFUL) and Marrakech, and both were perfect. We learned a lot from them. Our driver, Said, was fantastic. He drove very carefully through the chaos that is traffic in Moroccan cities and has always taken care of us. He came to every hotel to make sure everything was organized. He also told a hotel that they had to escort us to the restaurant that Said had chosen. Said speaks Berber, of course, English, Spanish and French. He was not only a driver, he also gave me conversation classes in Spanish. I can't blame the company. Highly recommended.
Best Itinerary 5 Days tour in Morocco from Tangier
We did 5 days tour in Morocco from Tangier, leaving Tangier and finishing in Marrakech and it was just amazing. Cities, small towns, deserts, mountains, and coasts.
Hassan took us across the country in a comfortable car. He is very friendly and knows the places we visited very well, which added a lot to the experience. He managed to find the perfect balance between accompanying us and leaving us alone.
The hotels were great too. So happy to have booked this trip. Everything was beyond my expectations.
Excellent transport service, Hassan the driver is very friendly and helps you if you need something and the other guides we had during the scheduled tours are professional and very fun and will make you experience the true Moroccan culture. The trip to the Sahara is something amazing and the camping experience was something I will never forget. It is a "must" journey in the desert. I highly recommend it to anyone who wants to discover the real Morocco Thank you ( Marrakech Tour Company ) for everything.
Places to see in Your 5 Days in Morocco tour from Tangier to Marrakech
the blue pearl of Chefchaouen
The city of Chefchaouen is one of Morocco's most beautiful cities, located on the northeastern coast of the country and called the Blue City relative to the blue houses where it is spread.
Morocco's Chefchaouen has many attractions that make it a destination for many tourists, including waterfalls, natural places, and historical monuments.
The city of Volubilis is located in Morocco and extends along its borders near Mount Zohoun It is located in the west of the city of Fez, which is approximately 60 km2 away. It is close to the city of Meknes by about thirty km2. It is approximately three km2 away from the city of Moulay Idris Zarhoun, and its name belongs to the funeral tree. And there are a lot of civilizations that have passed through this city where the Islamic religion has spread and Islamic countries have done, Romanian civilizations that have remained for long periods of time in the region have also passed and had a major influence on it until the Adressian State came and imposed its control over the country.
There are lots of tourist components that make the city a distinctive tourist place, as it features the largest area and beauty of its construction such as Orphi House, Hercules Business House, Venus House, and can not forget the Palace of Cordienne which is a very important painting in beauty, as well as shops and fences.
Located in the northern Moroccan city of Fez, specifically in the Fez Valley near the Cebu River, the Moroccan city of Fez is Morocco's second-largest city, with a population of about 1,112,072. Fez was the center of the Jewish community during the previous historical times, in addition to being one of the country's ancient imperial cities, and it was an important trading center According to the UNESCO classification.
No matter how you choose to explore, keep an eye out for the magnificent wildlife in the desert surrounding the Merzouga area. sand dunes are home to unusual reptiles including barbaric stairs and fingered clouds. While large-eared mammals such as gerbus and fox fennec come out searching under the cover of darkness. In particular, Merzouga is a good destination for birds. Nearby saltwater lake Dayet Sriji provides an oasis for flamingo birds, as well as a collection of egrets, storks, and ducks; While the dunes themselves harbor local desert birds including sand and squid.
Ait Benhaddou Palace is a traditional building gathering located in Warzazat Province, constructed from clay and surrounded by a reinforced defense fence with towers, characterized by simplicity and durability in the description.
The palace, with its distinct geometry, is a model of traditional housing in southern Morocco.
The Palace of Ait Benhaddou was recorded in 1987 in the World Human Heritage and was portrayed in many films, including/Lawrence of Arabia (1962) and The Last Temptation of Mr. Christ (1988). Mummy (1999). Wrestler (film) (2000). Alexander (2004). Game of Thrones (2011).
Tizi Nteshka or Tizi N Tchka Mountain Pass in the Grand Atlas mountain range. This corridor is located on National Route No. 9 between Ouarzazate and Marrakech, the highest in Morocco.
Marrakech is the first imperial city in Morocco's history and the most important among the cities in the central part of it. This is called according to the Berber Amazigh language. It means the land of God. It is also called the Red City relative to the predominant color of its buildings, its clay walls, and the many palm trees that surround it.
5 Days in Morocco Tour from Tangier Itinerary FAQ:
is 5 Days Itinerary in Morocco enough?
If you want a trip full of adventure and things to see, then the 5 day itineraries with three or four Moroccan cities are the best. It may sound like a lot, but if you plan ahead, it's doable and worth it!
How many days is enough in Tangier?
One or two days are usually enough time to see the attractions of the city. Although Tangier has a less flattering history, things have changed in recent years.
Can I visit Sahara Desert in 5 Days tour from Tangier itinerary?
Yes, actually 5 days tour itinerary in Morocco from Tangier is enough to discover the sahara desert, also you will have the opportunity to many other beautiful cities.
What to ses in 5 days in Morocco from Tangier?
On this 5 Days tour from Tangier to Marrakech, you will see fantastic and historic cities.
5 Days Itinerary in Morocco tour from Tangier:
Day 1: Drive From Tangier To Chefchaouen.
Day 2: Chefchaouen Via Volubilis And Meknes To Fes.
Day 3: Fes Via Cedar Forest To Merzouga Desert Sahara.
Day 4: Merzouga Desert Sahara To Boumal Dades ( Dades Valley ).
Day 5: Dades Valley Via Ait BenHaddou Kasbah To Marrakech.
Related tours: 5 Days tour in Morocco from Tangier to Marrakech
We provide customized private Desert tours and group tours as well. If you are ready to start your journey from Tangier, you should check out these tours below. However, if they do not meet your needs, you can simply contact us and customize your itinerary.